Quick Serve. Fast Casual. Limited Service. Find it all among the marketing solutions of QSR.
QSR magazine not only sits atop the vast quick-service restaurant industry, it is also recognized as one of the leading business magazines overall. And why not: Few industries top the sales volume of quick service, and few magazines are more important than QSR.
And yet, the evolution continues. The importance of sustainability and feeding a healthy, active lifestyle is at the forefront for the quick-service operator. More than anything else, quick service delivers on not just restaurant sales growth, but growth in lifestyle and choice.
Now in its 19th year, QSR delivers content with an ever expanding array of media products. And all of these products help you reach a market that is nearly $300 billion in restaurant sales.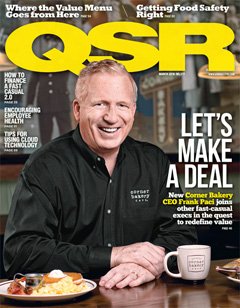 "While there are many avenues for staying abreast of the restaurant industry, QSR magazine is unique in its focus on this all-important segment. My ability to stay current with news and trends wouldn't be the same without it."
Don Fox
Chief Executive Officer
Firehouse of America, LLC