Dave's Hot Chicken's new CEO, Bill Phelps, doesn't think the brand's success is born entirely out of a Hollywood fondness for Nashville hot chicken.
"I don't think it has as much to do with hot chicken's popularity in Hollywood as it does with the specific Dave's product. It's different among fast-casual concepts in its advanced flavor profile, quality of the chicken, and spice. When you eat this food, there's no question you want to come back," he says.
Dave Kopushyan, Arman Oganesyan, and brothers Tom and Gary Rubenyan started Dave's Hot Chicken in 2017 as an East Hollywood parking lot pop-up, selling plates of tenders sporting increasing levels of spice and piles of fries to long lines of customers.
Only a couple of years later, the brand has two up-and-running brick-and-mortars, another location on the way, and a new plan to franchise across the U.S. following a recent deal with Phelps and a star-studded investment group.
In addition to Phelps—who left Wetzels' Pretzels as CEO earlier this year after co-founding and growing the brand to more than 350 units and $150 million in sales—Dave's Hot Chicken's new roster of investors includes former First Lady of California Maria Shriver, movie producer John Davis, anchor and former football player Michael Strahan, and actor Samuel L. Jackson. Phelps, Shriver and Davis were also original investors in Blaze Pizza, labeled by some as the fastest-growing U.S. food chain ever.
Why would a team of veteran investors jump on board with a young chicken concept with parking lot roots? Phelps says that, again, it all comes down to finding a brand with a unique, quality product.
"It's about asking the same questions we asked with Blaze: Is the product truly phenomenal? Is it that different from what's been out there before? Blaze is incredibly successful, and this is a team that's looking to follow that with something else that brings an incredible return to investors. So as a team, we've come together and said 'We believe this is the greatest hot chicken,'" he says.
[float_image image="https://www.qsrmagazine.com/wp-content/uploads/2019/11/DaveChicken.jpg" width="50″ link="" caption="The brand-building techniques of the Dave's Hot Chicken founders also speak to younger consumers." alt="" align="left" /]
Under the new franchising agreement, Phelps is CEO of Dave's Hot Chicken and the investment group as a whole owns 50 percent of the company. The original founders retain 50 percent ownership and have the opportunity to be franchisees. The brand is also newly licensed to franchise in most of the U.S., including California, Texas, Nevada, New York, Washington, Maryland, and Illinois, making room for a plan to franchise across the nation while continuing to build company stores as well.
Following the brand's first-ever brick-and-mortar—an East Hollywood strip mall spot opened by the four original owners—is the second Dave's Hot Chicken store, which opened up in North Hollywood last week just days after the investment deal was announced. To round out the first trio of locations, a Koreatown unit is slated to open in December, and another store is planned for the first quarter of 2020. After these locations, various national markets could be on the list.
"We're looking toward a national concept. We have different models in place for product quality, distribution, operations, and social media that are going to make it the leader in the category wherever we go," Phelps says.
Like a Chipotle or Shake Shack model that's been reinvented for a hot chicken product, the Dave's Hot Chicken customer experience is quick, customizable, and geared toward younger audiences. Guests choose from a straightforward menu of brined and deep-fried tenders, sliders, fries, kale slaw, and macaroni and cheese at a counter. Then, they can change up the spice of their chicken with seven different heat options, ranging from No Spice, to Lite Mild, all the way up to Reaper, a top level of heat crafted with Carolina reaper pepper and requiring the customer's signature on a general release before ordering.
Based on the brand's already-strong following of loyal, spice-loving fans, the spicy, customizable counter serve is most popular with a diverse group of Gen X, Millennial, and Gen Z customers. "Craving for high quality food with bold, spicy flavors appears to be representative of Millennial and younger Gen Z consumers. Whoever cracks the code on the next big concept will find themselves in a strong position for long-term growth. Dave's Hot Chicken checks the boxes on today's trends and has the executive experience, founder track record and appealing concept elements for success," Foodservice Results CEO Darren Tristano said in a release.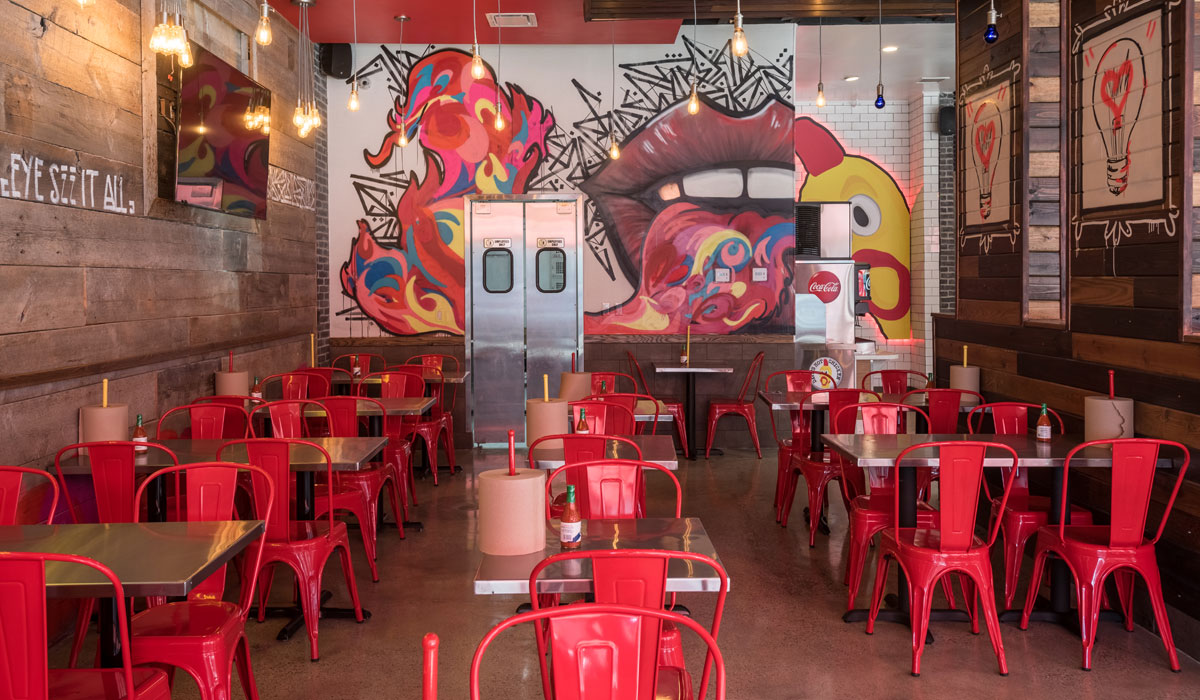 The brand-building techniques of the Dave's Hot Chicken founders also speak to younger consumers. Phelps says that the team's use of social media has bolstered up its customer base with large numbers of followers across platforms. Right now, with only two stores in the Los Angeles market, the concept has a following of more than 93,000 on Instagram alone.
"The social media efforts of this young group is as good as any I've seen in the business. They gathered more followers out of one store than a lot of big chain restaurants have with 300 restaurants. They've really created a culture," Phelps says.
The franchise deal mixes this youth-oriented culture with a group of experts who have experience with the heavy hitters Wetzel's and Blaze, creating a cocktail of experience and passion that Phelps says is a recipe for success. Plus, the concept is in the process of sourcing franchisees, and only those who have experience running multiple units will be considered for potential franchising partnerships, adding to the expertise that Dave's is already packing with Phelps and the rest of the seasoned investment group.
Phelps says that his experience running Wetzel's has made him aware of many of the pitfalls of scaling a brand, as well as provided models that can be easily tailored to fit other brands like Dave's. "We've got a team that has done this before—after starting Wetzel's we made every mistake in the book. Now, we've learned those lessons and we won't make those mistakes. So what we've got with Dave's are executives who have done the job before partnering with a young, aggressive entrepreneurs who have the fire and spirit to make something really successful and really unique," he says.