Bojangles CEO Jose Armario is sitting near the window of the brand's Genesis prototype in Sanford, Florida, a store that turns a year old in August. He pauses during lunch, an assortment of drinks and tenders, sandwiches, biscuits, and sides, to offer a disclaimer.
"This is going to sound weird or controversial," he says. "But I'd like to get out of the chicken business."
"I want to get into the experience business."
Armario, who has worked in restaurants since he was 14, leaving his post at a gas station for McDonald's across the street, didn't just reveal his departure. Rather, four-plus years after taking the CEO reins following Bojangles' late January 2019 sale to Durational Capital Management LP and The Jordan Company, L.P., Armario is ready to evolve the legacy restaurant chain from COVID's crisis shadow to the next chapter of its storied life.
Bojangles, founded in 1977 in Charlotte, North Carolina, has tested a new strategy designed "to become a national powerhouse brand" at six locations over the past year or so—Memphis, Tennessee; Clarksville, Arkansas; Monroe and Ruston, Louisiana; and this Sanford restaurant that looks out onto State Road 46 and sits adjacent to a Texas Roadhouse. It's a 3,800-square-foot box that seats about 40 people. There's a dual-lane drive-thru outside with digital menuboards, a "Biscuit Theatre" next to the counter, and a modern, ergonomic kitchen that improves workflow and incorporates fresh equipment like induction cooktops, daypart-specific holding zones called "The Power Line," and an Electrolux Thawing Cabinet. But before delving deeper into the physical progression, Armario circles back to context.
For a brand rooted in serving "Famous Chicken 'n Biscuits," his comment might sound like a painter telling you he's trading in brushes for a microphone. Yet the reality isn't disjointed at all. "What does that mean today?" he says of being "in the experience business."
"That means you have to have great people who enjoy taking care of customers. So we begin by taking care of our people."
In this formula is where Bojangles' began to turn the innovation wheel after nearly five decades. Perhaps even more so than the new build itself, complete with outside order-takers roaming the drive-thru with Panasonic tablets, is what's on the menu. These pilot locations, and all future new-market growth, will showcase a streamlined menu that doesn't offer bone-in chicken or all-day breakfast (legacy stores are not changing and will still serve bone-in). Instead, Bo's Chicken Tenders have been amped up, hand-breaded, and placed front-and-center. Breakfast is served until 2. There's also a new premium beverage platform with three milkshakes (Bo-Berry, which is a rift on Bojangles' famed Bo Berry Biscuits, French vanilla, and chocolate), and cold brew iced coffee (sweet cream, vanilla, and regular). Bojangles added premium salads as well and took its Fixins lineup down from eight items to four (macaroni and cheese, cole slaw, Bo Fries, and Bojangles' Dirty Rice remain; grits, Cajun Pintos, and mashed potatoes n' gravy, were removed).
Bojangles
Bojangles
Bojangles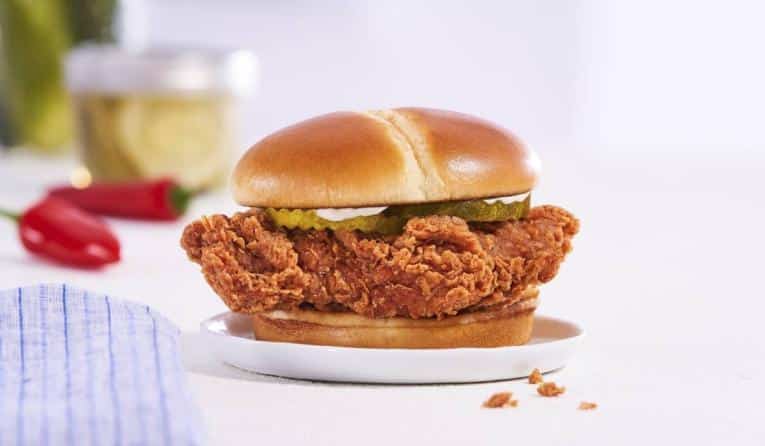 Bojangles
Armario knew legacy franchisees would both question the decision and put it under a microscope. "When we tell our franchisees about the sales performance we're getting, they're very impressed," he says, adding the brand's largest operator, who directs 117 units, is going to open the Columbus, Ohio, market under the modernized look and system.
Bojangles invited him to the Sanford spot to see it in real-time and collect feedback. What he discovered goes back to Armario's initial point. "The team members are happier, which translates to happy customers," he says.
"I wish we could take credit, but I'll credit the team … when we did have customers in Memphis ask about bone-in they would say, 'listen, the chicken is so good we took the bone out for you.' And I thought that was genius," Armario adds.
It's really an evolution drawn from a few, experience-focused pillars. One, as Armario hinted, involved a more consistent, enjoyable employee process—where the menu is easier to execute, the kitchen drops about 10 degrees (thanks to the induction tops). Secondly, he says, Bojangles "wanted to satisfy the boss," or customer. Today's guest wants an elevated experience if they're leaving the house and spending more than they used to. This "takes the best of Bojangles and contemporizes it," Armario says.
In addition, while it's a streamlined lineup at its core, the menu opened Bojangles up throughout the day. Milkshakes, coffee, and even chicken fingers/sandwiches versus bone-in chicken, morphed these test locations into all-day affairs with a snacking lure. The Sanford restaurant sold more milkshakes on Memorial Day than it ever has.
Jeri Workman, a former 30-year Whataburger vet, is the "Operating Partner" of the Florida restaurant. Armario and management created this elevated position for company-operated restaurants to fuel Bojangles' coming era. She was working as an area director in Bojangles' Charlotte market running "five or six locations." The company asked her to shift course and come lead one. Like the Texas Roadhouse visible from the restaurant's drive-thru pickup point, the Operating Partner model gives the leader shares in the profit of the store. In turn and theory, the Partner will pour all their attention toward driving sales, customer satisfaction, and, naturally, profit. One unit (it has the potential to become two) at a time.
To say Workman is invested in her operation would be a canyon-sized understatement. Before it opened, she hosted classroom training sessions at a hotel meeting room. They talked culture, expectations, and why this Bojangles was going to be a harbinger of more to come (15 are planned for Central Florida after the brand previously exited in 2015). Workman says there are 45 people on her staff currently. Of those, 38 were there when the doors opened. All of management has stuck around.
Workman awards merits with small star pins she purchased on Amazon for "like 30 cents apiece," she shares. One employee, Rosemary, has more than 40 stuck to a hat that's fast running out of real estate.
Bojangles
Bojangles
Bojangles
Bojangles
Bojangles
It's little things, Workman, says, like giving employees who clock five shifts five shirts so they're not always doing laundry. And broader efforts, such as having a zero-tolerance policy for bullies or rude behavior. Workman's staff says hello and goodbye to everyone when they arrive and before they leave. She once dyed her hair "purple with a bit of pink" after promising to do so following a Steritech audit. Workman hosts team building activities, picnics, Soul Food Sundays, and even trains with "Bojangles Jeopardy."
But less granular is the wide approach Bojangles invested in. Workman walks through the back of the Sanford location, called Infinity Kitchen as part of the Genesis prototype. This store is a "3-2," meaning it has the biggest kitchen layout and a medium sized dining room. Overall, it's a touch longer than core Bojangles builds, with double windows and two drive-thru lanes. There are payment and handout windows, the former of which gets passed by during slower periods.
Again, though, everything inside was rethought to create a more sensible restaurant. It typically takes 11–13 employees to staff on the weekends.
Right past the counter, next to the pickup window, is the beverage platform Workman refers to as the "Bo-Rista" station. In regard to the Memorial Day milkshake boom, she says, the store was getting orders of eight, 12, 10, as people rolled through in droves. "Our lemonade [new to this operation as well] is also outstanding," she says.
The kitchen flow goes back, turns right, then comes down, passing storage, a handwashing station, and the thawing cabinet before reaching chicken fryers and those induction cooktops mentioned earlier, which sit on opposite sides. There's also a system to bring the oil over from fryers so employees aren't moving it back and forth.
Workman stops to offer some anecdotes about the real elephant in the kitchen. What's been the guest response (or kickback) to Bojangles skipping bone-in chicken?
Workman says employees have the green light to offer skeptics a sample. "The most important thing, I think, is getting them to taste it," she says. "Once they do, I can turn a non-believer into a believer real fast."
The previous Sunday, some motorcycle riders strolled in and were prepared to leave when they realized bone-in wasn't available. Workman asked them to humor her. "They tried [the tender] and spent $80," she says. "That's all we've got to do."
Operationally, Armario jokes, Workman might quit if he asked her to switch back to bone-in. He's being flippant, but it's probably not a stretch. Workman says employees "far prefer" making it and she'd much rather oversee it. For one, the recovery time isn't comparable. If they run out of tenders, it's a roughly a three-and-half to five-minute bounceback. With bone-in, it could be 30 minutes. Sometimes an hour. She follows that observation with her previously touted turnover stats.
"I think we're doing it at the right time," she says. "We're ready. Our guests are ready for it. You've just got to talk to them."
Worth resurfacing, legacy and core stores aren't making the boneless flip—it's solely a new-market approach, but with learnings, especially on the equipment side, with potential to translate over.
"I think we have an obligation to our customers to listen to them and be forward thinking about everything we do," Armario says. "… Even though it's streamlined, it still has this feeling. That's what we're going after."
Bojangles
Bojangles
"If we want to compete in today's marketplace, who is doing the best job? And how can we leverage all the great things of this brand to compete at a higher level?" Armario says.
Bojangles often analyses its position in the marketplace relative to peers. It'll mystery shop its own stores as well as competitors and check the products side-by-side. How do they compare in size and taste? Armario, while understandably biased, says this is a conversation Bojangles always wins. It's one of the main reasons he came over in 2019. His four-decade run in the industry included stops at Burger King, Luxottica Group, and McDonald's. During his time with the latter, Armario held several leadership roles, including president of McDonald's Chile, group president of McDonald's Canada and Latin America, and EVP of worldwide supply chain, development, and franchising.
"Let me sound like the homer for a second if I could," he says. "But if I didn't believe this I wouldn't be here. I don't need to be here. I really don't. I want to be here. I want to grow this brand. I've taken care of brands my entire career. Brands that were already started by others and established global brands and national brands. This one, I get to put my team together and find a way to grow it successfully, right?"
"The bottom line is Bojangles' food—this was not my invention—is the best tasting food in the industry," Armario continues. "I know I'm sounding like a homer when I say that, I realize that. But when we can make it right, serve it right, man, I've worked with too many companies—I know the difference between really great tasting food and just standard mass production food. Our food tastes better. It really does."
And so, to phrase it simply, this boneless platform had to win as well. It's a hefty product that Workman says doesn't need sauce (but if you do, there's options like jalapeno ranch, new creamy buffalo, peach honey pepper sauce, and a house-made ranch that's made with a half-gallon of buttermilk, bag of savory mayo, and a package of ranch seasoning). Honey mustard is the top seller, but ranch slides in right behind. Armario adds there's generally a sizable preference gap between the housemade and packaged version.
"Not everybody loves change. But you can't, the old saying, you can't expect different results if you keep doing the same old thing," Armario says. "If we want to compete in today's marketplace, who is doing the best job? And how can we leverage all the great things of this brand to compete at a higher level?"
"Nobody owns the trademark to hiring great people," he adds. "Nobody owns the trademark to the best training system. Nobody owns the trademark to the best ownership management incentive structure. Nobody even owns the trademark to the best recipes. They are all out there. But if you can execute it, we're going to get in the experience business. That's what this is really about. Customers will reward that, in my opinion."
Back inside the Sanford restaurant, Workman says the induction stoves cut down steps and lower the temperature. They're also programmed to ensure consistency (you can't burn a product when it knows when to shut off). The Sanford venue runs in the low 80s Fahrenheit. Other restaurants get into the 90s when the kitchen flames up. And as for the "Biscuit Theatre," this was something tried in a 2016 redesign that debuted in Greenville, South Carolina. It's back for the same reason it originally came to market—to put Bojangles' 49-step process on display. Workman says customers, from kids to adults, press against the window and interact with the "Master Biscuit Maker." On this mid-morning in May, it's Victoria, who hadn't made biscuits at a restaurant before coming to Bojangles. Now, she's part of a crew putting out between 100–200 every hour, hour-and-half, during busy periods. After going through training, they get a coat and hat and the chance to compete company-wide.
Everything in the kitchen ultimately meets at that "Power Line," which programs temperature by product and can be switched by daypart. It sits behind the counter and alongside the drive-thru window to flow everything toward fulfillment.
In Workman's restaurant, dine-in customers order and grab a seat. Staff run the food out for an extra touch of Southern hospitality, she says. "And we get our SMG scores, they're very good, 80s and 90s. That makes me happy every week," she says.
Bojangles
The Sanford restaurant generates 62 percent of its sales at the drive-thru. About 10 percent is delivery and the rest is dine-in and carryout. And in a move that's live at other restaurants in the system, there's a limited late-night drive-thru menu for Friday and Saturday (10 to 11 p.m.) that allows guests to pick from a four piece tenders combo, chicken sandwich combo, fries, the brand's Legendary Iced Tea, and Pepsi products.
All of it has made employee life smoother. The same is true of moving away from open-to-close breakfast, which Workman says often threw a wrench into the back of the house if, say, a customer asked for an egg at night when employees hadn't made one in hours. "It's like writing a check in the Visa line. Everybody has to stop," she says. Bo-Berry Biscuits are still available all day, of course.
Echoing one of Armario's points, Workman says this new build and approach "is busy all day." People roll by just for cold brew and decide to grab some pimento cheese. And the "tender aspect" seems to work better as well with on-the-go customers who might not want crab a bone-in thigh as they're passing by. "We're consistently busy all day long and even into the night," she says. "With a menu that's so easy to execute, for me, I love that we as a company, we've gone to great strides to make sure that our team doesn't have to work so hard. That they're better taken care of, and I think we're proving that with our low turnover numbers."
Today's evolution for Bojangles arrives at a clear growth inflection. The chain posted record AUVs of $2.1 million (full-size franchises) at the end of fiscal 2022. It started 2023 by signing multiple franchise development agreements to bring 32 new restaurants to target markets across the U.S., including Texas, Mississippi, New York, Maryland, and Tennessee. Last year, Bojangles closed the calendar with more than 230 units in the pipeline. It opened north of 30 stores and debuted its 800th systemwide in Monroe, Louisiana.
Bojangles sputtered on out-of-market expansion in earlier chapters of its history (the company was public since 2015 before the recent deal). Ahead of the sale, it launched a "restaurant portfolio optimization program" designed around closing underperforming stores and refranchising.
Bojangles is now headed to fresh cities, it's preparing to establish a Texas presence in one example, built for broad appeal and performance. Yet with the same spirit and DNA that has made Bojangles a regional cult-favorite. "So people will know the brand. But we're really sort of launching the brand in more modern, contemporary way," Armario says.