Even companies with no plans to expand into China may find the world's most populated country hard to ignore.
Take, for instance, In-N-Out Burger Inc., the Irvine, California-based burger enterprise with 277 locations in California, Arizona, Nevada, Utah, and Texas. The privately owned hamburger chain boasts a cult-like following of its limited menu, featuring the trademarked Double-Double (two patties, two slices of cheese), Animal Style (mustard-cooked patty with extra sauce, pickle, and grilled onions), and Protein Style burgers (burgers wrapped in lettuce, without the bun).
New store openings have been known to attract long lines of customers willing to wait overnight for In-N-Out's freshly made burgers and fries cut from fresh potatoes within view of the cash registers. Despite its long-standing popularity, In-N-Out Burger, founded in 1948 in Baldwin Park, California, has carefully controlled expansion and only recently opened its Texas locations.
Then, last September, sharp-eyed residents of Shanghai, China, began spotting a mammoth sign covering a storefront in the Jing An Temple district featuring blown-up images of burgers and fries and announcing the pending arrival of Double-Double, Animal Style, and Protein Style burgers and fries. In-N-Out fans in the city began excitedly spreading the news, only to learn that In-N-Out Burger was not behind this new venture.
A completely independent enterprise, CaliBurger LLC, had trademarked a selection of In-N-Out's menu items in countries throughout eastern Asia and Europe, including China, and was planning to open its first location in Shanghai. In addition to its menu similarities, CaliBurger's logo was strongly reminiscent of the palm tree pattern that lines drink cups and french fry trays at In-N-Out Burger.
CaliBurger originally publicized burger names that were identical to In-N-Out's. The company has since changed them.
Like In-N-Out, CaliBurger's brand identity is based on serving quality ingredients, including hamburger patties made of imported Australian beef and hand-sliced fries. In an interesting twist, all four of CaliBurger's founding investors hold degrees from law schools in California, and two have experience in intellectual property (IP) law, according to the company's website.
Even large, multinational companies operating in China have found imitators hard to shake. International Dairy Queen Inc., with 500 locations in China and more than 20 years of experience operating in the region, remains vigilant about imitators.
"Infringement is common and often at the hands of sophisticated counterfeiters," says Dairy Queen company spokesman Dean Peters in an email to QSR. "It is critical, particularly in China, for Dairy Queen to have an IP protection strategy that encompasses both offensive and defensive elements."
The undisputed fast food leader in China is KFC Corp. of Yum! Brands Inc. KFC is dogged by lookalike restaurants featuring three-letter names, prominent red signage, and even a Colonel Sanders lookalike with Asian features. Coffee drinkers in search of a Starbucks in China might be duped into sipping a drink at SPR Coffee, a local coffee chain with green signage and a similar logo font.
CaliBurger's yellow and red logo reminds Shanghai consumers of the California-based In-N-Out chain.
In-N-Out Burger responded swiftly by filing a complaint in a U.S. District Court against CaliBurger in September for trademark infringement, a legal move enabled by one major detail: CaliBurger was an American company, registered to an address in Diamond Bar, California.
After months of local press rumblings and speculation, it appeared the legal battle had been resolved with the opening of CaliBurger's first Shanghai restaurant in early January. The menu was replete with conspicuous changes: no longer the Double-Double, the double-patty cheeseburger was now the Cali Double. A lettuce-wrapped burger was now LC Style, and Wild Style fries covered in cheese and grilled onions replaced Animal Style fries.
CaliBurger's menu also included bourbon-laced milkshakes, beer, and red wine hailing from California. The company also promised that CaliBurger girls—young, fresh-faced brand ambassadors—would be present at company events.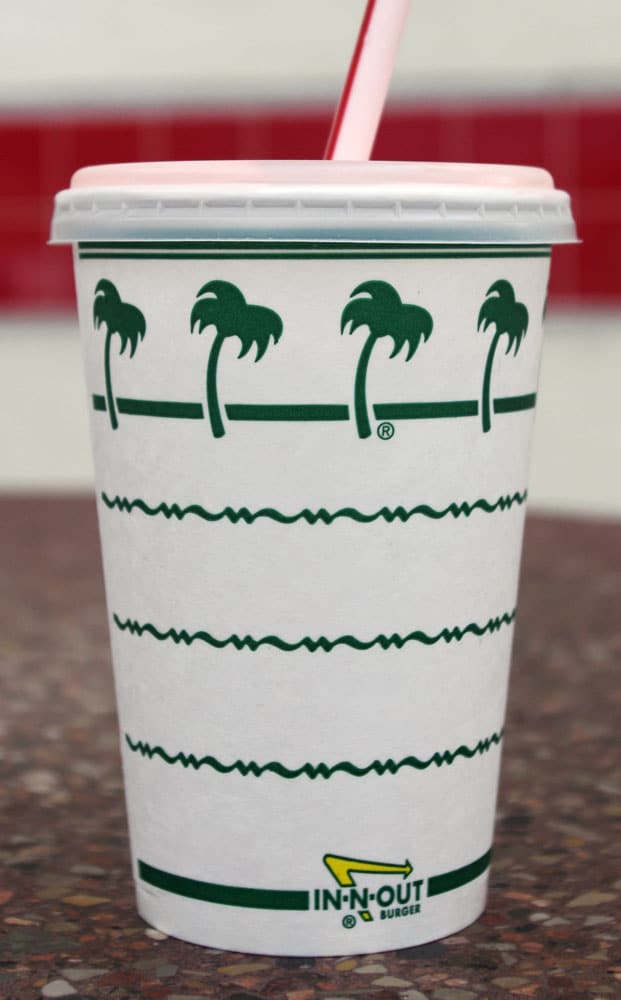 In-N-Out and CaliBurger branding both feature palm trees and similar color schemes.
In-N-Out and CaliBurger reached a confidential settlement, according to court documents filed January 20. Neither side could be reached for comment.
While In-N-Out Burger continues to stand by its strategy of controlled growth, many other companies, when placed in a similar position by aggressive competitors in China, feel compelled to investigate opening in China, the world's second-largest economy. The decision can be daunting, but some companies decide that damage to a brand name by an imposter outweigh the risks and force market entry.
"There are companies that accelerate their entry strategy into China," says Geoffrey Lin, a partner that practices IP law at Ropes & Gray LLC in Shanghai. "It's one thing to use lawyers and legal recourse to deal with it, but [companies] think that 'I need to get in there and start shaping people's impression of my products,' creating an impression of a brand before someone else does."
The best approach to protecting valuable proprietary rights when entering the Chinese market is to thoroughly research the IP landscape first, says Horace Lam, a Beijing-based partner at Jones Day LLC with 16 years of experience in IP law. Lam recommends four steps when considering the move into China.
Step One: Become familiar with the Chinese legal system
One mistake Lam sees frequently is the assumption that the Chinese legal system functions in the same way as it does in the U.S. It doesn't, and it pays to know this. You may never need to enforce your IP rights in China, but in the case that you might, Lam strongly recommends first getting a grasp of the playing field.
A fundamental difference is the system of law. While the U.S. is a common law country, China's legal system is based on civil law, like many countries in Europe.
[pagebreak]
Step Two: Register your IP in China, and do it as soon as possible
Subsequent to its civil law system, China recognizes a first-to-file system for IP, meaning that unregistered trademarks don't qualify for protection.
If a Chinese competitor hijacks a mark, there are a number of possible repercussions. Under Chinese law, whomever has registered a mark is entitled to not only use the mark, but to stop anyone from using it and freeze any goods associated with the mark at customs, even if a company can show that it has used the mark in the past
"China is big on registrations," Lam says. "In China, there is the first-to-file system; you don't have to prove use or intention to use. Whoever files it first gets it."
Under Chinese law, whomever registered a trademark first is entitled to stop others from using it.
Lam recommends covering all bases and trying for as many registrations as possible. Copyrights, for example, do not need to be registered in order to qualify for protection, but Lam advises registering anyway.
"When it comes to enforcement, the copyright certificate will come in extremely useful," he says.
Company website URLs are another common target. Certain companies have made a business out of filching URLs containing company names by searching patent registration databases, seeking out well-known or familiar brands, then registering website domains before the original company. Again, Lam says, the way to avoid this headache is to get in early and register your company's domain name or variations of possible domain names before they can be commandeered.
Step Three: Actively protect your IP
While many foreign companies find the Chinese legal system intimidating and are tempted to ignore imposters that spring up in China, Lam strongly cautions against the head-in-sand approach. "If you already know people are damaging your brand in China, do not sit back and do nothing," Lam says. "China itself is a big market and your brand value could go downhill very easily."
Dairy Queen has experienced imitators and aggressively fights any infringement on its IP. "Enforcement of IP rights is difficult, time consuming, and expensive," Peters says. "[At Dairy Queen], we register and monitor trademarks carefully and prosecute violators with appropriate vigor."
Lam encourages vigilance and an active approach to protect a company's IP. "It is actually possible to enforce IP in China. Many companies don't know, and they think that enforcing IP in China is very difficult," he says. For instance, there are options available in China besides filing a lawsuit when fighting copycats, including cooperation with administrative organs or customs, or in extreme cases, seeking help from the Public Security Bureau.
China has been under significant international pressure in recent years to improve its poor reputation for IP security, and the government has made measurable progress in a truncated timeline, having only adopted its first IP-related law in 1982.
China ranked 16 out of 183 countries by the World Bank for ease of contract enforcement.
One example of the government's efforts is its court system. In 1992, the government established specialized courts dedicated to hearing IP cases, which are now generally acknowledged as speedy and effective. As of June of 2011, China ranked 16 out of 183 countries by the World Bank for ease of contract enforcement. In comparison, the U.S. ranked 7, the U.K. ranked 21, and Italy 158.
Foreign companies, including Microsoft, have successfully sued for damages within Chinese IP courts, but the amounts of damages awarded in these cases tend to be small. The largest amounts of damages awarded by Chinese IP courts to a foreign company were RMB21.2 million ($3.4 million) and RMB7.1 million ($1.1 million).
Still, Lin agrees that for consumer brands, things are looking up. "If you do register [your IP] and have it properly registered, I think the system is improving," Lin says.
Step Four: Consider your partners carefully
For ease of entry, many companies new to China opt to partner with a Chinese company that has an established foothold in the local business environment, including knowledge about real estate, navigating government regulations, and the critical established relationships with government officials.
Lam strongly encourages performing thorough due diligence when considering a local partnership. Partnering with the wrong company can mean the risk of IP theft from internal sources, a situation he has seen repeatedly.
Open for about three months now, the CaliBurger restaurant is a large, brightly lit space, featuring gray walls and black-and-white tiled floors. Customers fill about half the space on a weekend afternoon, a mix of both ex-patriot and Chinese customers.
"I feel guilty going to a shanzhai In-N-Out," says San Diego native Phoebe Wu, referring to a Chinese phrase meaning imitator or counterfeited goods. "But it's the only way that I can get my Cali fix here."
The majority of American customers interviewed sheepishly acknowledged knowing about the legal dispute between the two businesses after finishing their burgers.
One customer, an In-N-Out fan from California, "wanted to do his own taste test" of CaliBurger, but decided that while he comes to Shanghai a few times a year for business, in the future he wouldn't come back to Caliburger. "It's not that close to my hotel," he says. "The burger's a little greasier."
"And I wouldn't want anyone copying what my company does," he adds.
Some viewed CaliBurger as a viable enough stand-in for In-N-Out in a location that many accept will likely never host an In-N-Out restaurant.
"We go to In-N-Out a lot," says another CaliBurger customer visiting from Santa Rosa, California. "Overall it's pretty similar. But if In-N-Out was here, I'd be loyal."