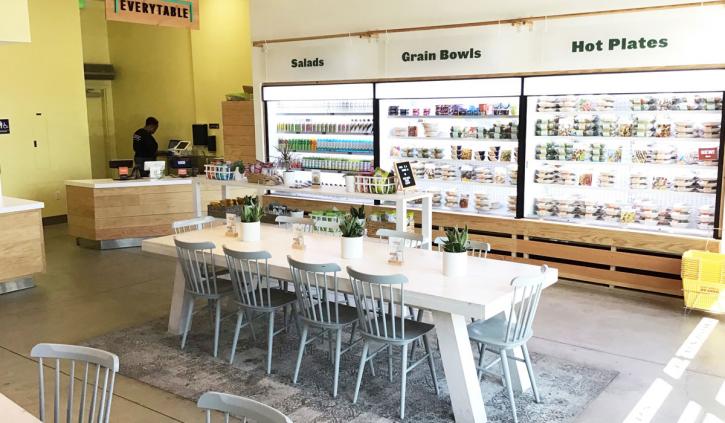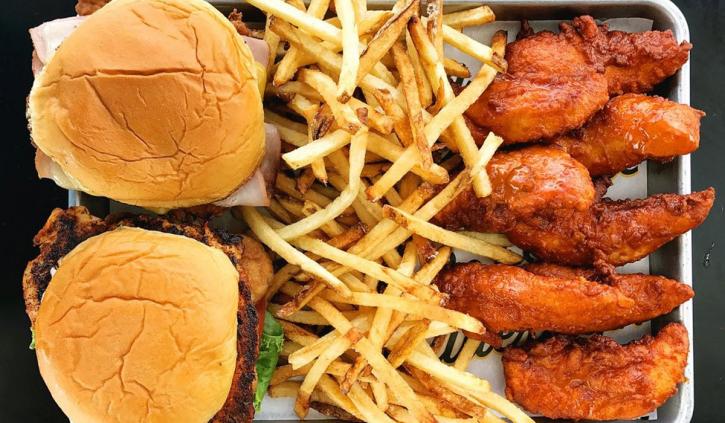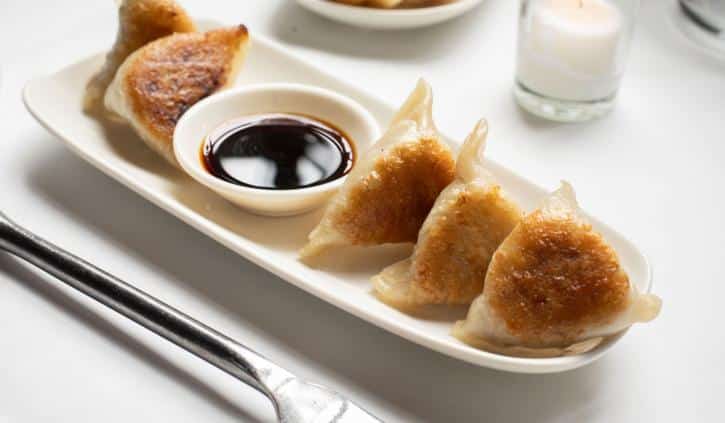 Growth on the horizon
Everyone wants to find the next big thing in restaurants. That's the very reason we launched this list back in 2017, in fact; the industry stands to benefit by knowing who's carrying the torch with innovation. But while the past decade provided a fairly consistent stream of intriguing food ideas and concepts, 2020 completely shuffled the deck, decimating some of those concepts while supercharging others.
With the end of the pandemic possibly in sight, here's a look at the 40 fast-casual concepts with fewer than 40 locations that survived COVID-19 and— barring any future crises—are primed for success in our new normal.
CHECK OUT PAST 40/40 LISTS:
Note: If viewing on desktop, please click the arrow in the picture to see the next slide.
Image credits:QSR magazine
R&R BBQ
HQ: Lehi, UT
Units: 9
Barbecue may be an intensely regional offering, but R&R BBQ is banking on wide appeal for what it has to offer—especially on the West Coast.
President Neil Harfert says barbecue has historically been more of a mom and pop occasion, served out of small restaurants. But R&R, he says, blew away his expectations as an upscale, fast-casual concept with plenty of potential, particularly in underserved markets out west.
"Everything about the brand just kind of revolutionized barbecue for me," says the industry veteran who was previously with Qdoba, Modern Market, and most recently MOD Pizza. "Like many of the concepts I've joined when they were very small, this one to me felt like it had a lot of legs, like it could grow really big, really quick."
Harfert says R&R pulls from multiple styles to create its own unique menu. There's Texas-style brisket and dry-rub ribs, and there's traditional ketchup-based sauce along with the vinegary, Carolina-style sauce. Where R&R differs, Harfert says, is in its wood choice for smoking. R&R uses white oak, whereas many barbecue brands turn to hickory or mesquite.
Like most other brands, COVID-19 drastically reshuffled R&R's traditional business. Harfert says catering plummeted while delivery and digital orders skyrocketed, and the brand responded by cutting its menu by about 40 percent, launching a Family Meal Pack to feed six to eight people, and improvised curbside pickup and "mock drive thrus" that included tents and registers in the parking lots.
Since those early days of the pandemic, R&R has figured out a staff redeployment strategy that improved its labor numbers, evolved its catering platform to provide individually packaged meals, and redesigned its store to accommodate the crush of takeout orders. It's also under construction on a traditional drive-thru location.
Through it all, Harfert says, R&R approached everything with a great attitude, not letting up on its warm hospitality or strong team culture. "I think under times of challenge and stress, it's really easy for people to curl up and get defensive, but some people do that in the wrong way," he says. "Whereas we said we're going to be positive … we're going to take care of our people, we're going to take care of our customers, we're going to enjoy the challenge of pivoting the business rapidly. And that kind of attitude, I think, made all the difference."
R&R BBQ plans to have 14 locations open by the end of this year, with an additional seven to eight coming online next year.
Image credits:R&R BBQ
Mo'Bettahs Hawaiian Style
HQ: Bountiful, UT
Units: 18
Some may think of Hawaiian cuisine today and immediately jump to poke, but you won't find any raw fish on Mo'Bettahs menu. Founded by brothers and Hawaiian natives Kimo and Kalani Mack, the Utah-based brand instead serves teriyaki steak, chicken (teriyaki, katsu, or pulehu, which refers to a grilled cooking method), kalua pig, and shrimp tempura, along with sides like rice and macaroni salad. Mo'Bettahs is banking on huge growth this year, with 16 new locations planned.
Image credits:Mo'Bettahs Hawaiian Style
The Crack Shack
HQ: San Diego
Units: 6
Restaurateur Michael Rosen initially opened The Crack Shack in almost literally a shack behind his San Diego fine-dining restaurant Juniper & Ivy. But when sales exploded, he knew he was onto something and developed The Crack Shack into a big-box experience complete with yard games, a bar, and a menu that features fried chicken, sandwiches, bowls, and sides like chicken oysters and Mexican poutine. The brand has designs for 35–50 restaurants in the next few years.
Image credits:The Crack Shack
Island Fin Poke
HQ: Winter Springs, FL
Units: 13
Can poke cling to the momentum that it built a few years ago, especially considering COVID? Island Fin's numbers during the pandemic suggest so, as its 2020 sales were up 20 percent over the previous year. The brand is gunning for 100 locations in the next four years.
Image credits:Island Fin Poke
Rush Bowls
HQ: Westminster, CO
Units: 36
Blended bowls were an exciting industry niche prior to COVID-19, and the pandemic may have further established that to be the case with such an intense focus on personal wellbeing. Among the leaders in the space, Rush Bowls has set up a highly efficient and profitable model through small footprints and streamlined inventory and operating procedures. Its future growth will include more airports and kiosks.
Image credits:Rush Bowl
Grain & Berry
HQ: Tampa, FL
Units: 10
Grain & Berry may seem like just another bowl concept, but the devil is in the details. The expansive menu includes açai, spirulina, pitaya, kale, and yogurt bowls, along with smoothies, juices, parfaits, avocado toasts, and even banana splits. The superfood café has established a loyal following in the Tampa Bay area in just a few short years, and has plans to capitalize on the healthy-eating movement.
Image credits:Grain & Berry
Vinaigrette Salad Kitchen
HQ: Lexington, KY
Units: 6
Spread across Lexington and Louisville, Kentucky, as well as Cincinnati, Vinaigrette's six locations offer a range of chef-crafted and customizable salads and grain bowls, along with soups and homemade lemonades. The brand launched curbside pickup and a home-delivery program during the pandemic, and is now focused on both expanding its menu with wholesome options while also helping to support its regional farm partners.
Image credits:Vinaigrette Salad Kitchen
The Salad House
HQ: Westfield, NJ
Units: 6
Contrary to its name, The Salad House isn't simply home to salads. No, this concept also has sandwiches, wraps, small plates, soups, avocado toast, smoothies, and even a kids' menu with chicken fingers, grilled cheese, and pizza. The brand is banking on its wide menu satisfying multiple diets and restrictions to fuel its franchise growth.
Image credits:Lauren Anzevino
Everytable
HQ: Los Angeles
Units: 11
When Everytable launched in 2016, it had a noble mission: serve affordable, healthy meals at locations in food deserts, and subsidize them with higher prices at stores located in more affluent neighborhoods. 2020 was a big year for Everytable, which responded to the pandemic by providing food relief for many local organizations and expanding its operational capabilities with a new central kitchen, work force, and delivery trucks. Its new Social Equity Franchise Program will provide access to capital and hands-on training for qualifying candidates from marginalized communities.
Image credits:Everytable
Wings Over
HQ: New York City
Units: 38
It all started as a joke among a group of Cornell alumni. Wings Over, their favorite restaurant in Ithaca, New York, was closing, and Dan Leyva texted his friends to suggest they reopen the franchise there.
"I was really just joking when I sent that text message," Leyva says. "But by the end of that evening, it had turned into a very real opportunity. And within a couple of months, we had a lease signed."
Things progressed from there. Leyva says the business partners found opportunities to improve "literally every single part of the business" as franchisees, from its training standards to its food quality to its POS technology. And in October 2017, they acquired the whole company, which had grown to 30-plus locations in about 20 years. What followed was a soup-to-nuts reimagining of the brand built around three core values: great people, amazing food, and "smileable experiences."
While Wings Over had previously thrived in college towns, Leyva—now bearing the title of chief wing officer—says the new ownership team saw potential in the universal appeal of the menu, which includes not just wings but also chicken sandwiches, salads, and even ribs.
"When you think about who eats this type of food, it's everybody: It's kids, it's parents, it's moms, it's dads, it's business people, it's late-night drunk kids," he says. "When you go to a sports bar to have wings, that's one type of environment, and there's a place for that. But we wanted to focus on having fresh chicken where we hand-breaded and cooked to order. That allowed us to focus on being a family-friendly type of establishment."
When COVID-19 hit, the Wings Over team quickly shut down dining rooms and has kept them closed ever since. It ramped up its digital services to accommodate takeout and delivery, and it placed a priority on ensuring its teams were safe and community members in need were fed. Beyond that, Wings Over leaders took the opportunity to reevaluate the business infrastructure and tighten the screws.
Leyva says he isn't too concerned about the flood of wings brands that have sprung up during the pandemic, particularly as virtual concepts. He says Wings Over's quality and long history with delivery are differentiating factors. Indeed, many of the challenges that lie ahead for the brand are things it was already working on prior to COVID.
"How do we make the overall pickup experience better? How do we make sure that you get the right notification when your food's ready so that you could be waiting in your car or waiting outside? How do we make sure that the estimate that you're getting for your food is as accurate as possible? How do we do something similar to the Domino's Pizza Tracker?" Leyva says. "We thought we had two, three, four years to accomplish all those [challenges]. All of that has been fast-tracked."
Wings Over will open a few more locations this year before prioritizing additional growth in the Northeast and Midwest in the coming years.
Image credits:Wings Over
Super Chix
HQ: Salt Lake City
Units: 8
Chicken sandwiches have been around for eons, but Popeyes' massive success in the last year and a half has thrust the humble dish to the fore. And Super Chix has plenty of experience in the chicken-sandwich game, its menu boasting items like The Deluxe, the Cheesy BBQ, the Crispy Avocado, and the Korean BBQ. The brand is aiming for at least 70 franchise locations open by the end of 2022.
Image credits:Super Chix
Wing It On!
HQ: Raleigh, NC
Units: 7
Wing It On! has become a cult favorite over its decade in business, dishing all-natural chicken wings and sandwiches with the singular goal to "resurrect the buffalo wing from the ashes of mediocrity." Its simple menu, mobile app, and delivery program have given it a boost during COVID-19. Wing It On! aims for 100 franchise locations by 2024.
Image credits:Wing It On!
Guthrie's
HQ: Auburn, AL
Units: 37
Guthrie's may not have the most innovative menu or the sexiest branding. So what makes it such an enticing concept to watch? For one, it's the originator of the chicken-finger restaurant, as it launched in 1965 before slowly growing to nearly 40 locations across the South. And it's ready to step on the franchising accelerator, with one very big advantage: CEO Joe Kelly Guthrie says the brand is highly efficient and profitable, capable of $20,000–$25,000 days out of 2,000 square feet.
Image credits:Guthrie's
Fry the Coop
HQ: Chicago
Units: 5
This hot-chicken joint opened in 2017 and has become a Chicago favorite with items like the signature Nashville Hot Chicken Sandwich and the Donut Hot Chicken Sandwich. In the pandemic, Fry the Coop pivoted to socially distanced ordering through take-out windows, canopies, and signs, which allowed it to keep all of its staff and even boost sales by 20 percent. Two new locations—each with drive thru—are slated to open soon.
Image credits:Fry the Coop
FieldTrip
HQ: New York City
Units: 3
Born in Harlem in 2019, FieldTrip was designed by founder Chef JJ Johnson to be a community experience based around global rice dishes. That includes items like the crispy chicken bowl with Carolina Gold fried rice and sticky barbecue sauce; the shrimp bowl with sticky rice, green curry sauce, and toasted
Image credits:FieldTrip
PLNT Burger
HQ: Bethesda, MD
Units: 7
What do you get when you pair a celebrity chef with a sustainability entrepreneur? An explosive plant-based fast-casual concept, it turns out. "Top Chef" veteran Spike Mendelsohn paired with Honest Tea cofounder and Beyond Meat chairman Seth Goldman to launch PLNT Burger, which aims to be a disrupter for plant-based eating through chef-crafted burgers, fries, and shakes. PLNT Burger went from one to seven locations during the pandemic, and is planning to continue rapid growth through Whole Foods Markets, in-line footprints, drive thrus, and even a self-sustaining, modular restaurant with a negative carbon footprint.
Image credits:PLNT Burger 
Biscuit Belly
HQ: Louisville, KY
Units: 3
Biscuit Belly's menu is focused around made-to-order biscuit sandwiches, breakfast cocktails, and other Southern breakfast and brunch fare. The executive team includes Chuck Schnatter—brother of Papa John's founder—who was brought on board to help franchise the concept. Three more stores are coming this year, and Biscuit Belly hopes to ink deals for 20–25 more shops by the end of the year.
Image credits:Biscuit Belly
Rise Southern Biscuits & Righteous Chicken
HQ: Durham, NC
Units: 16
What originally launched as a biscuit-and-doughnut joint has since evolved to primarily focus on the former of those two. Founder Tom Ferguson has spent the last few years tinkering with the model, scaling back doughnut innovation while expanding the menu to include more biscuit sandwiches and biscuits and gravy. There's also the Righteous Chicken, which is tenderized, brined in buttermilk, fried, and served on a biscuit, bun, or as strips with a choice of toppings and sauces.
Image credits:Rise
RASA
HQ: Washington, D.C.
Units: 2
Indian fast casual RASA was in a great position coming into 2020. It had built a rabid fan base across Washington, D.C., and it had plans in place for units No. 2 and 3.
To say COVID-19 was like hitting a wall might be an understatement. Cofounder Sahil Rahman says he and business partner Rahul Vinod were weeks away from opening the second location and were planning opening festivities when the country went into lockdown.
"It was this total moment of chaos and panic," Rahman says.
To understand the importance of the moment, though, one has to understand how RASA got there in the first place. Rahman and Vinod were almost literally born into the restaurant industry; their fathers were coworkers and friends in India before immigrating to the U.S. and opening a restaurant. Rahman and Vinod grew up together and watched as Indian food went from being a cuisine that was misunderstood and mocked to entering the mainstream.
The pair identified fast casual as being the right model for getting authentic Indian food to the masses. "What we're trying to do is to bring really high-quality, fine-dining Indian cuisine, but do it in a fast-casual format so that people are able to grab it for a quick lunch," Rahman says. "They can grab it for dinner, and it's a way for Indian cuisine to be a part of people's everyday lives." He adds that many other Indian brands that have attempted this failed because they either didn't have the deep background in Indian food, as Rahman and Vinod do, or they didn't create the strong branding that Rahman says is necessary in today's fast-casual market.
The first RASA opened in D.C.'s Navy Yard neighborhood in 2017, and immediately became a local favorite. The menu, which Vinod's father helped craft, is both authentic and accessible, pairing Indian flavors and ingredients with more familiar American foods. The names of the foods have been adjusted to take some of the uncertainty out of the ordering occasion for newbies; for example, Rahman says that chole is just called chickpeas and saag is just called spinach. Guests can build their own meal or pick from a list of signature dishes, and have a wide variety of sides and beverages—including beer, wine, and cocktails—to choose from as well.
Fast-forward to March 2020. With their momentum seemingly dissipating before their eyes, Rahman and Vinod looked for ways to be helpful to the community. They partnered with local organizations like World Central Kitchen and Real Food for Kids to help feed frontline workers, residents of nursing homes, and families from low-income neighborhoods.
That community work was a blessing in disguise. Rahman says it forced RASA to expand capacity and refine its operations. And with the second location's opening delayed by about five months, he says, it gave the team a longer runway to prepare for all the complexities of opening a new restaurant. By the time that happened in August, the local community's pent-up demand paid off in a big way.
"People were so excited that we decided to open, and in a funny way, for a lot of folks, it felt like a little ray of hope in a time when a lot of stuff had been closing and people have been cooped up," he says. "It was a really nice moment for us and for the community as well."
Rahman says he's learned from COVID not to plan too far ahead for RASA. But barring any more unforeseen crises, he hopes RASA can be a leader in the emerging Indian fast-casual category.
Image credits:Rasa
Brooklyn Dumpling Shop
HQ: New York City
Units: 2
Sure, Brooklyn Dumpling Shop is only a few months old. But it's tapped into something very much of the moment with its Automat concept, in which customers have 24-hour access to 32 high-quality dumpling varieties through temperature-regulated lockers they can open using their phone. The concept has already launched a franchise program.
Image credits:Daniel Kwak
Sheesh Grill
HQ: Northern Virginia
Units: 2
This family-run fast casual in Northern Virginia is a melting pot of Asian flavors, offering a variety of Middle Eastern, Afghan, Persian, and Mediterranean comfort foods. While the menu is certainly a star, Sheesh also stands out for its community engagement. Its Saffron Program donates to women saffron farmers in Afghanistan, and Sheesh also collaborates with local refugees and displaced chefs on recipe development.
Image credits:Sheesh Grill
Kitava
HQ: San Francisco
Units: 2
How do you offer hearty, flavorful menu items that are also nutritious? Kitava is out to answer that question, leveraging healthy cooking oils and high-quality animal proteins to shape its menu of bowls and plates. To navigate the challenges of the pandemic, Kitava launched a direct online ordering platform to facilitate delivery and takeout orders and rolled out regular specials available only through that branded platform.
Image credits:Kitava
Gyro Shack
HQ: Boise, ID
Units: 9
Greek food has officially crossed into the mainstream American diet, and Gyro Shack is here to benefit. The franchise operates out of a flexible, small footprint with drive thru and delivery, and dishes made-to-order Chicago-style gyros. Gyro Shack plans to open six locations this year, with its sights set on expansion across the Western U.S.
Image credits:Gyro Shack
Marugame Udon USA
HQ: Dallas
Units: 9
Food is theater at this Japanese brand, which has brought its fresh-made, authentic Sanuki Udon noodle dishes—prepared and assembled in an exhibition kitchen—to the U.S., primarily in California to date. The brand's most recent store opening in the Dallas-Fort Worth market represents its new prototype, which features a separate to-go line to increase speed and efficiency.
Image credits:Marugame Udon USA
CAO Bakery & Café
HQ: Miami
Units: 13
First-generation Cuban-American Antonio Cao initially operated six units of Vicky Bakery, a chain that his grandfather founded in 1972 as a way to bring traditional Cuban pastries to Miami's neighborhoods. He's since rebranded as CAO and evolved the now-13 locations into more of a mainstream fast casual, with a menu that includes café options like sandwiches and wraps to build its lunch and dinner business.
Image credits:CAO Bakery & Café 
NaanStop
HQ: Atlanta
Units: 3
NaanStop's goal is to make Indian food accessible to everyone. Starting with their grandmother's recipes, founders Neal and Samir Idnani have translated the authentic dishes into a familiar menu wherein guests can customize a rice bowl, naan wrap, or salad with options like chicken tikka masala, paneer, or a kabob.
Image credits:NaanStop
Sweet Paris Creperie & Café
HQ: Houston
Units: 11
Founded in Houston by the husband-and-wife team of Ivan and Allison Chavez, Sweet Paris is the pair's attempt at introducing American audiences to a traditional crepe. It's been such a success that they're taking the brand to the masses through franchising, offering sweet and savory crepes, waffles, salads, hot drinks, and more within Instagram-worthy settings.
Image credits:Sweet Paris Cre perie & Café 
Hummus Bowls & Wraps
HQ: Las Vegas
Units: 3
What started as a store in the back of a strip mall hidden from drive-by traffic has evolved into a massively popular three-unit chain the thrives on strong word of mouth and stellar online reviews. The Mediterranean concept invites guests to build their own bowl or wrap with a variety of hummus, greens, grains, proteins, toppings, and sauces. Now the team behind Hummus Bowls & Wraps is looking to expand through franchising, licensing, and ghost kitchens.
Image credits:Hummus Bowls & Wraps
Tito's Burritos & Wings
HQ: Boonton, NJ
Units: 6
Never thought burritos and wings belonged in the same setting? Tito's will make you change your mind. This quirky brand pairs a beach lifestyle and good vibes—slogan: "It's all good"—into a laidback brand dishing burritos, tacos, and quesadillas in homemade tortillas, along with bowls, nachos, salads, and, yes, chicken wings in one of 12 sauces.
Image credits:Tito's Burritos & Wings
Tacodeli
HQ: Austin, TX
Units: 11
Tacodeli has become an Austin icon in its 20-plus years, pairing authentic Mexican flavors with Austin's funky vibe to create a menu of more than 40 handcrafted breakfast and lunch tacos. The brand rolled out family taco kits, curbside pickup, delivery, and expanded dinner hours in response to the pandemic, and plans to keep an off-premises-friendly format moving forward.
Image credits:Tacodeli
Jeremiah's Italian Ice
HQ: Orlando
Units: 32
Jeremiah's has become a Florida favorite since its founding in 1996, but after franchising in 2019, it has big plans for its 40-plus flavors of Italian ice and ice cream. The brand adapted both its service and its franchising efforts to the virtual world during the pandemic, which helped it award 52 deals in the first six months of 2020. It's aiming to nearly double in size this year.
Image credits:Jeremiah's Italian Ice
Chill-N Nitrogen Ice Cream
HQ: Miami
Units: 8
Ice cream might seem like the kind of category that suffers from social distancing and quarantine. But at least at Chill-N Nitrogen Ice Cream, which freezes its signature product in front of customers using liquid nitrogen, business has been steady, and it's managed to pivot to an off-premises-friendly model. Now Chill-N is looking to grow through franchising across the Southeast U.S.
Image credits:Chill-N Nitrogen Ice Cream
The Stand
HQ: Los Angeles
Units: 10
The Stand may serve American classics like burgers, sandwiches, hot dogs, salads, and wraps, but don't be fooled. The extensive menu offers something for everyone and plenty of creativity in between. The Stand's 2020 performance shows how that's created a loyal following; sales were up in all but one of its locations, and the brand signed an Area Development Agreement for the state of Texas, with the first two of as many as 20 locations there slated to open this year.
Image credits:The Stand
The Original Hot Dog Factory
HQ: Atlanta
Units: 10
The Original Hot Dog Factory has a wide variety of proteins and globally inspired toppings. Want a taste of the Caribbean? Go for the Jamaican Chicken Dog. A taste of the East Coast? Order the Surf & Turf topped with lump crab meat. Something meatless? Try the San Francisco Veggie Dog. That mass appeal gave it a boost through the pandemic, and now the brand is planning growth across the U.S. and internationally.
Image credits:The Original Hot Dog Factory
Burgatory
HQ: Pittsburgh
Units: 7
This devilishly clever brand has all the greatest hits of your favorite dive: premium build-your-own or signature burgers; draft beers; craft-made cocktails; finger foods like nachos, wings, and onion rings; and spun-to-order milkshakes, including hard shakes.
Image credits:Burgatory
Foxtrot Market
HQ: Chicago
Units: 10
Foxtrot pairs a modern-day convenience store with a fast-casual café to create a modern yet convenient neighborhood favorite. The brand offers high-end coffee beverages, breakfast sandwiches, and smoothies, and also has wine on tap—hand-picked by an in-house sommelier. Meanwhile, its curated gifting program, grocery, wine, and beer available in its retail area focus on high-quality and often local products.
Image credits:Foxtrot Market
Mr. Shrimp Cajun Kitchen
HQ: Pembroke Pines, FL
Units: 4
What started as a mom and pop Cajun concept in a small town in Florida 30 years ago has become a multiunit fast casual with plenty of potential for growth. In 2019, the founder's children saw an opportunity in the market for a unique seafood menu, which in Mr. Shrimp's case includes Cajun-inspired plates, bowls, and boils (boiled shellfish served in a flavorful broth).
Image credits:Mr. Shrimp 
Fired Pie
HQ: Phoenix
Units: 21
Fired Pie isn't your traditional fast-casual pizza joint. Launched in 2013 by California Pizza Kitchen veterans Fred Morgan and Doug Doyle, the 21-unit, Arizona-based chain strives to offer a level of quality above some of the other national brands. That's why the menu features options like mac 'n' cheese and an extensive array of salads. Even before the pandemic, Fired Pie was investing in express locations intended just for online ordering, delivery, carryout, and catering.
Image credits:Fired Pie
ZaLat Pizza
HQ: Dallas
Units: 12
ZaLat founder Khanh Nguyen initially opened a pho restaurant after a successful career in law and technology. But when the next-door pizza shop closed, he decided to take a shot at the pizza category instead. ZaLat's menu is filled with high-end pies, with everything from dough to sauce being scratch made. ZaLat's pickup and delivery model was tailor-made for the pandemic, and the brand is now looking for growth both in and outside of Texas.
Image credits:ZaLat Pizza
Mikey's Late-Night Slice
HQ: Columbus, OH
Units: 5
It's not just the award-winning pizza that makes Mikey's one to keep an eye on for the future—although, in today's climate, it certainly doesn't hurt to serve a great slice. No, what makes this brand so exciting is that to date it's grown primarily as a full-service concept, with four such locations prioritizing the holy trinity of pizza, booze, and a relaxed environment. But founder Mikey Sorboro says the pandemic has forced him to pivot to counter service, and he's also looking at ghost-kitchen expansion and retail and licensing deals.
Image credits:Mikey's Late-Night Slice