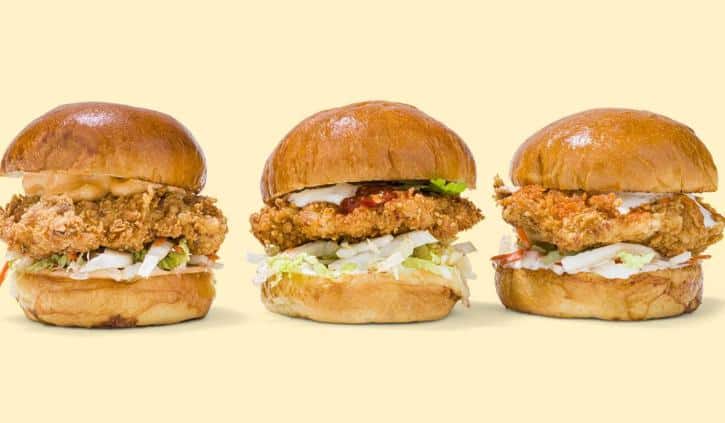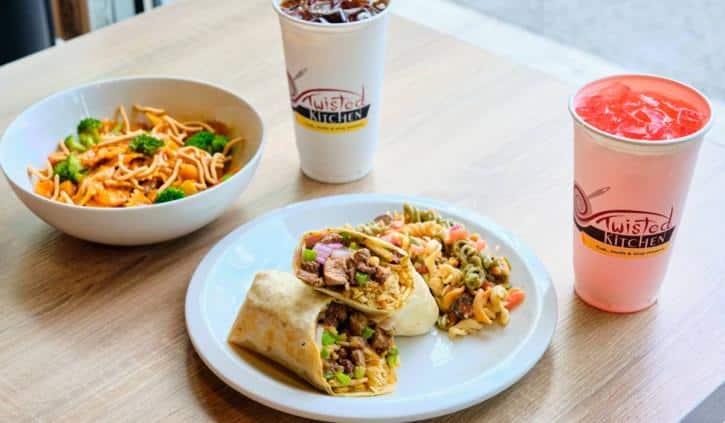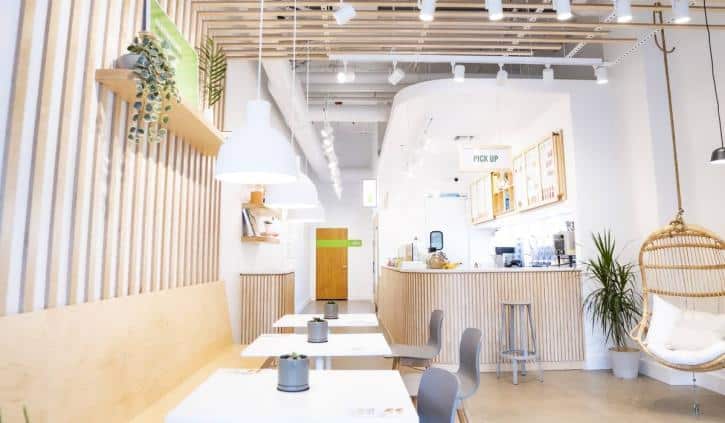 Battle tested
Innovation, opportunity, and hardships spur entrepreneurship. And that's always been the case for quick-service's most inventive corner, fast casual. While COVID-19's grip has lightened, there remain roadblocks, from rising costs to labor to a consumer grappling with uncertain economic conditions. But this hasn't curbed the growth and inspiration of a new generation of brands.
Our seventh edition of the 40/40 List once again recognizes 40 fast casuals with fewer than 40 locations that we believe are on the verge of something big. Whether just getting started or prepping for major expansion, this list of restaurants has designs to catapult out of the pandemic's depths and into a future rife with potential.
CHECK OUT PAST 40/40 LISTS:
Note: If viewing on desktop, please click the arrow in the picture to see the next slide.
Image credits:Brand Viva
Daddy's Chicken Shack
Headquarters: Houston, Texas
Units: 1
A word Pace Webb keeps returning to is "chemistry." Daddy's Chicken Shack tells a startup story that's not unfamiliar. The brand had a product guests craved and then fit the dream into an improbable box. In this case, a 700-square-foot space in Pasadena, California, Webb and her husband and business partner, Chris Georgalas, discovered on Craigslist. There was no bathroom, foot traffic, seating, and a red curb fronting the store (so no parking). Webb says Daddy's could count the number of customers "on our hands and feet in a day."
This was November 2018. Four years later to the month, Daddy's signed its seventh regional development deal and second in Texas. Not in the brand's history, but in just 2022 alone. Along with the inking of eight franchise agreements across California, Oregon, Texas, Colorado, Arizona, Georgia, and Florida, the brand today boasts a total of 120 units in development.
CLICK HERE FOR MORE ON DADDY'S JOURNEY AND GROWTH PLANS
Image credits:Daddy's Chicken Shack
District Taco
Headquarters: Falls Church,Virginia
Units: 14
District Taco is the restaurant rags-to-riches story at its finest. After leaving his home in Yucatán, Mexico, hoping to make it in the U.S., Osiris Hoil hit a setback. In 2007, as the economic crisis took root, he was laid-off and forced to start from scratch in a new country. He took his mother's recipes, passion for combining Mexican cooking with a new American lifestyle, and began to chart a business. Hoil and his neighbor, Marc Wallace, got together in 2009 over homemade chips, salsa, and guacamole and decided to launch the District Taco food cart in Rosslyn. The brand has since grown to 14 stores across the DMV and Pennsylvania. "Beyond creating fresh, healthy, and unique recipes, we are also committed to strengthening the well-being of our growing community and the members within them," says the company, which was named one of QSR's Best Brands to Work For this past year, earning recognition for its PTO for all employees and a Pioneer Program of peer-nominated rewards.
Prior to 2020, District Taco had started to make technological advances within its restaurants. When health concerns arose, customers moved from dining in-store to ordering pickup and online deliveries. District Taco just announced plans to expand via franchising. The brand aims to add an average of 15–20 franchises per year for the next five with initial growth primarily focused on the Eastern Seaboard and the Midwest.
"District Taco has come a long way from the original taco cart in 2009, where we began delivering a unique dining experience by providing fresh, healthy, authentic Yucatán-inspired food to a loyal customer base," Hoil says. "I am so proud of the journey we have undertaken so far, and excited for the road ahead as we continue to expand and franchise across the country. We hope our story continues to inspire others to follow their own American dream."
Image credits:District Taco
Guisados
Headquarters: Boyle Heights, California
Units: 8
Since its December 2010 founding, Guisados' vision has remained intact, and it begins with the style of cooking itself. Guisados' food takes a different approach to the mainstream "taco."
"Growing up, mom wasn't on the grill making carne asada or nachos; these stews were/are not only a portrayal of how we as Mexican Americans eat, but how many other cultures cook for their families," says owner and operator Armando De La Torre. "We take pride in our food and realize that our menu is an accurate portrayal of the foods we really ate growing up." Guisados' goal was to serve homestyle braises on handmade corn tortillas—the latter of which are made to order from fresh ground masa. "Over the years our growth not only fuels foodies and visitors of our city, but brings so many back to the memories of their mothers kitchen," De La Torre says. "Guisados' menu is a memory, a recreation of our childhood, and it is truly something special to be able to share that with our city and all those who pass through our doors," he adds. "We take deep pride and responsibility in its continued growth and enjoy the challenge of bringing that identity to life with each new location."
The family run operation is an ode to how mom spent her afternoons: stirring, dancing to Mexican singer and actor Javier Solis, and adding each ingredient as she prepared family dinners. Since Day 1, Armando Sr. has been in charge of food, consistency and development, while De La Torre (Armando Jr.) handles daily operations, designs the menus, brand identity, marketing materials, collaborations, and all creative aspects of the restaurant. Natalie, who is Armando Sr.'s daughter, serves as GM and continues to manage and operate multiple locations and day-to-day tasks. "All with a belief that the most essential type of leadership is presence, and that our presence continues to have an impact on our company's culture and growth," De La Torre says.
The nostalgia has carried to units in Echo Park, Downtown L.A., West Hollywood, Burbank, Beverly Hills, Pasadena, and soon, Hermosa Beach. Guisados' stews and masa are still made at the original Boyle Heights kitchen multiple times a day and delivered to restaurants. Along the growth trail, the company has cultivated a community of artists through its Featured Artist Program—a revolving display of local art and murals—and introduced a breakfast taco menu.
When COVID hit, Guisados closed all locations. Three weeks later, Armando Sr., Jr., and Natalie rolled up their sleeves and opened one branch, slowly inviting a couple of long-time employees to help out. "We focused on delivery, takeout, and always offered to put the food in your trunk if you requested," De La Torre says. "Our business actually became a bit more efficient as we learned some new ways to cut overhead and streamline our operation. Fortunately, being that we are already a [quick-service operation], our menu and packaging essentially remained the same."
The brand introduced taco kit style options to feed a family of four to six. They came fully dressed and ready to eat, or in a "survival pack," where the items arrived separate in deli containers so guests could make their own and store for later.
Today, Guisados operates with a spoke-and-wheel system where everything is cooked and sourced from a central commissary where it braises stews and grinds corn, and delivers to units, as mentioned before. The approach, the company says, gives it confidence to open another seven to 10 locations. This commissary/co-packing method is key to future consistency. "Our goal is to grow even further than that; we are ready for the next step in our journey," De La Torre says.
"Restaurants are a labor of love, and though the ever-changing landscape of the labor force and supply chains may feel tedious day to day, we are grateful that we are continuing to manifest the dream we once had when we first opened our doors," he adds. "To be able to provide more jobs for our community and more opportunities for our staff is one of the most rewarding feelings of seeing this restaurant grow. We've seen employees become mothers, fathers and friends, we've seen fathers become grandpas and so many stories begin within our walls."
Image credits:Guisados
Sprinkles
Headquarters: Austin, Texas
Units: 24
Over the past 17 years, Sprinkles has expanded from its trailblazing roots in Beverly Hills, California, to a national presence with bakeries that serve hand-crafted cupcakes, each frosted in its signature swirl alongside layer cakes, cookies, brownies, and even "pupcakes." The company also recently launched a line of Belgian chocolates and popcorn inspired by its top-selling cupcake flavors. But Sprinkles might just be best known for its cupcake ATM, which it claims is the first on the market. Today, they can also be found in non-traditional spots like airports and college campuses. Going into the future, the classic brand is ready to ramp up growth via franchising. Sprinkles' first domestic franchise opened in Salt Lake City and international expansion will follow, starting in Asia.
"As a brand, we are so fortunate in the way Sprinkles lives in the hearts and minds of our guests. We're connected to celebrations, sharing joy and everyone's favorite 'treat yourself' moment," says Dan Mesches, Sprinkles CEO. "Innovating new products and flavors, franchising domestically and internationally, and growing our DTC channel are not only integral to our growth strategy but allows us to connect meaningfully with more consumers around the world."
It's a path that's been building from an infrastructure standpoint. Just before the pandemic, Sprinkles rolled out an e-commerce platform and began offering nationwide shipping. Amid COVID, the chain expanded offerings (the aforementioned chocolate and popcorn), and in addition, Sprinkles implemented creative partnerships with brands like Golde, Kosterina, and Sanctuary, as well as award-winning chefs like Brooke Williamson and Claudette Zepeda, to create limited-edition cupcakes. Across the pandemic, Sprinkles grew its direct-to-consumer channel and tacked on CPG products like cake and cupcake mix. It created efficient ways for guests to order, either through its custom-built online ordering platform or at kiosks in-store. Digital menuboards are also a staple feature.
The female-founded brand, by Candace Nelson, says 76 percent of its bakery GMs are female. "We are constantly innovating and will be launching a new product format in the new year," the company says. "Sprinkles will continue to partner with brands across all lifestyle verticals including, food, beauty, fashion, and entertainment in addition to the celebrity and chef collaborations also slated for 2023 and beyond."
Image credits:Sprinkles
Wing Snob
Headquarters: Warren, Michigan
Units: 35
Just under five years ago, Wing Snob started up in Michigan. The brand has since reached 35 locations and is actively expanding in seven states and Canada. The brand says it noticed the influx of delivery coming in during the pandemic, so it worked to lean into relationships with third-party delivery companies. Since, it has also revamped its rewards offering—called Snob Perks—to coincide with a mobile app. Wing Snob says it is growing in many markets across different states, and hopes to hit 100 locations by 2025.
Image credits:Wing Snob
Knuckies Hoagies
Headquarters: Atlanta, Georgia
Units: 6
The inception of Knuckies stems from award-winning, Boston-based pizza concept, Crazy Dough's Artisan Slice Bar, which was acquired in 2017 by Georgia Franchise Group. Known for its award-winning dough produced by Atlanta-based H&F Bread Company (eventually bought by Engelman's Bakery), Crazy Dough's won the World Champion Title for "Best of the Best" at the International Pizza Expo in 2014. What ended up being the long-term value play, though, was the dough itself—now central to Knuckies' hoagie rolls. The brand was created by two restaurant operators who recognized the opportunity. They believed so much they closed two other concepts and converted them to Knuckies, pouring their life savings in before raising additional growth capital to expand. Today, the hoagie role is the No. 1 compliment from consumers.
COVID hit Knuckies hard considering it had opened the first in late 2019. The following year, the company did under $200,000 but worked to stay afloat. That figure more than doubled to $460,000 in 2021 and that same store, as of November 2022, was up to $600,000 in sales that calendar alone. There are now four corporate units, a franchise, and another franchise on deck for Q1. Through launching online ordering and third-party platforms, Knuckies' model has shifted from 70 percent dine-in to 87 percent takeout, and the brand's operational design has adjusted in response. The chain plans to continue franchise and corporate growth going forward, while investing in a custom mobile app, new website, and further sales-driving tech platforms.
Image credits:Knuckies Hoagies
Garden Catering
Headquarters: Old Greenwich, Connecticut
Units: 8
In a chicken category dominated by tender and wing brands, Garden Catering has stayed true to the nugget for more than three decades. Debuted by Lou Iandoli as Garden Poultry in 1978 in Greenwich, Connecticut, Garden Catering starts with all-white breast meat sourced from family farms that is humanely raised with no antibiotics ever. They're then hand-cut and cooked in small batches each day. The process and product have earned cult raves, including TikTok stars Charli and Dixie D'Amelio. Garden Catering was purchased by Frank Carpenteri Sr. in 1989 following Iandoli's passing. Today, it's run by Carpenteri Sr.'s son and daughter across the eight Connecticut and New York locations. The prominence of the nugget hasn't wavered, of course—guests still flock to Garden Catering to buy them by the pound (The Boss is a pound, extra fries, and two drinks for about $20). Another menu staple includes The Hotsy Sandwich, a breakfast offering that's earned national acclaim. It includes bacon, egg, and cheese, and is topped with Garden Catering's famed potato cones and Hotsy's chili.
Throughout COVID, Garden Catering built a new tech stack, upgraded employee compensation, and secured new marketing leadership. It plans to expand into retail with a line of sauces and seasoning and open new stores with a redesigned prototype.
Image credits:Garden Catering
INDAY
Headquarters: New York City, New York
Units: 7
New York City-based INDAY is taking Indian food and bringing it to a fast-casual format. With five restaurants in office buildings at the time, INDAY was significantly affected by the COVID pandemic. To lessen the impact, it streamlined its menu and prioritized popular dishes like chicken tikka masala and garlic naan.
INDAY has different iterations of its restaurant working for various customer bases; an "Express" concept that operates in commercial or transit areas and "INDAY All Day," a neighborhood-focused concept that features breakfast, lunch, and dinner offerings where customers "live, work, and play." The brand has its eyes set on expansion, with plans to grow to 18 restaurants by the end of 2024.
Image credits:Inday
Bango Bowls
Headquarters: Bay Shore, New York
Units: 7
Bango Bowls offers menu items like salads, poke, acai, flatbread paninis, and smoothies. The brand has simplified the processes to execute its menu to fit in its 1,000 square-foot stores. Bango Bowls says the onset of COVID accelerated its growth because of this smaller store strategy. Maximizing output and dialing in on a small footprint were key steps. The brand also has a digital ordering platform where about 90 percent of its business is takeout. Bango Bowls is in the process of franchising the concept and plans on beginning to sell franchises at the start of Q2. Long term, the brand has set its sights on 100 units in three years.
Image credits:Bango Bowls
Cookie Plug
Headquarters: Riverside, California
Units: 30
A sense of playfulness pervades Cookie Plug, from its graffiti-covered walls to its colorful selection of cookies, with names like the O.G., Purple Haze, and Pixie Junkie, as well as monthly specials. Since the first store debuted in 2019, the brand has swelled to 30 locations across California and Nevada. And despite the pandemic, it managed to open 23 units in the first two years of operation.
Cookie Plug kicked off franchising last March, and now has some 130 units under development through a combination of corporate and franchise-owned deals, with forthcoming locations as far afield as Puerto Rico. And that's the tip of the iceberg. The company is aiming for 500 open locations and 1,000 more in the pipeline by the end of 2025.
Image credits:Cookie Plug
The Kebab Shop
Headquarters: Austin, Texas
Units: 33
Since originating in San Diego's East Village in 2007, Kebab Shop has scaled to 33 units, with momentum picking up. The brand faced its share of hardships during COVID, but had infrastructure—digital capabilities for online ordering, pickup, and delivery, and cloud-based operations to help communicate changes to staff—in place to weather the worst of it. In fact, it opened 12 units during the pandemic window and has doubled its store count since 2020. "The Kebab Shop's experience during COVID-19 motivated us, even more so, to accelerate our growth across our existing markets and into new ones, including South Florida," CMO Wally Sadat says.
The Kebab Shop now plans to expand by 10–15 stores per year over the next few, which includes openings in existing markets like California, Texas, and Florida. The ultimate aim: bring the concept to every major city in America.
"Our mission is to 'Change The Kebab Game' by making kebabs as approachable here in the U.S. as it is in Europe. We give people a unique Mediterranean experience by using familiar ingredients in surprising ways. From our loaded San Diego Wrap to our award-winning fries, and specialty sauces made in-house, we hope to appeal to everyone," Sadat says
The Kebab Shop's popularity grew from an innovative menu and accessible environment. The food focuses on European-Style Kebabs (carved off vertical rotisseries or chargrilled) served in wraps, boxes, or plates that can be customized based on the guests' preferences, with the brand's fries and house-made sauces. "The past five years have been crazy; we launched 16 restaurants in five different markets more than doubling our store count since the start of COVID," Sadat says. "This experience has made our concept stronger, and we are ready to accelerate our growth even further."
Image credits:Kebab Shop
Hot Chikn Kitchn
Headquarters: Sarasota, Florida
Units: 5
Hot Chikn Kitchn took a signature route to a sizzling category by building around four premium sauces: Base, Medic, After Burner, and Angry Hot. It then couples these flavors with high-quality chicken that's certified halal. Operationally, a small menu (there are seven mains and every one includes chicken), allows the brand to be efficient with limited prep time. The company says employees could show up at 10:30 to open at 11. But there's also plenty of mission behind the product. Mike Sarago and his son, Anthony Sarago, along with partner Chef Frederic Gilmore, created Hot Chikn Kitchn to "harness the power of food to bring people together." It started during COVID as a spot to connect community, and has thrived since. "The brand's mission of unity through food has been the driving force behind its success. We believe that food is what unites us all and lifts people up," the company says. Hot Chikn Kitchn hosts "Unity Days" where nonprofits can raise money in-store. They typically run from open to close on Tuesdays and the chain donates 25 percent of guests' pre-tax sales back to their chosen organization. Recently, Hot Chikn Kitchn went from two to four locations in a single month and isn't holding back on future goals—it plans to roll more than 200 locations within the next three years.
"HCK is the result of a lot of hard work and determination by our team," Mike Sarago says. "The brand has a delicious menu that is easy to execute and ready to scale. We cannot wait to bring our Nashville Style Hot Chicken to the whole country."
Image credits:Hot Chikn Kitchn
The Melt
Headquarters: San Francisco, California
Units: 25
The Melt bases all of its core decisions on providing customers an "I Love It Here" experience, including reinvention of common comfort foods, like the MeltBurger, which includes Angus and Wagyu beef that's chopped, grilled, and filled with melted cheddar cheese, jalapeños, pickles, and Melt sauce on a toasted bun.
CEO Ralph Bower credits much of the brand's success to carefully listening to guests' changing needs, particularly during COVID. At the onset of the pandemic, sales dropped 80 percent overnight. Bower addressed fears by keeping all restaurants open despite historically low revenue and guaranteeing paychecks for more than 140 employees at the seven Bay Area and Southern California locations. Delivery volume grew from 10 percent pre-pandemic to more than 80 percent within the first month of the shutdown. Nearly three years later, the channel still mixes around 40 percent companywide.
As of November, The Melt's 2022 revenues were outpacing 2021 by nearly 60 percent, and AUV was more than doubled pre-COVID levels. It finished 2022 with 12 company-owned and 13 licensed partner locations, with the recent addition of three restaurants in West Hollywood, Danville, and Folsom, California. In 2023, the company plans to double in size, opening 10 corporate stores and 20 licensed partner outlets.
Image credits:The Melt
i.8sushi
Headquarters: Los Angeles, California
Units: 2
Chef J. Margaux started i.8sushi in the heart of 2020's quarantine. It began in a home garage kitchen in L.A. as a way to prank family and friends during trying times, she says. Or, to show them "great things can come in different and unexpected packages." That happened to be delivery sushi in a pizza box. As it turned out, Chef Margaux's Filipino- and tropical-flavor-inspired creations spawned a fast following. The eco-friendly and offbeat experience erupted on Instagram. Looking to meet demand and unable to do so from the garage, Chef Margaux, a 23-year-old immigrant from the Philippines, took the brand to a commercial ghost kitchen in the San Fernando Valley before eventually opening a storefront on Sunset Drive. Chef Margaux got her brand off the ground—and scaling—in two years with Univer.se, an app that helps upstarts like i.8sushi build a website, open shops, and take payments from their phone.
Her plan now is to expand as a takeout favorite across L.A. before, hopefully, thinking national. "Our goal is to give back to the community through serving great hospitality, quality food and to open opportunities to inspire and nurture more potential leaders and chefs to grow and live their passion and purpose with us," Chef Margaux says.
"The pandemic was an incredibly challenging time to start a new food venture, but we feel so grateful to have grown so rapidly in just two years—from our garage to two locations in Los Angeles," she adds. "The support of our community and tools like Univer.se helped us get up and running quickly and expand our footprint to share our passion with more people. We are looking forward to expanding to more storefronts in the L.A. area so we can share our enthusiasm for our sushi made with love."
Image credits:i.8sushi
Urbane Cafe
Headquarters: Ventura, California
Units: 25
Urbane Cafe began in 2003 when owner Tom Holt felt there was a glaring gap in Ventura's sandwich and salad scene. The concept is known for its fire-baked Focaccia bread, which has been around since the ancient Romans, according to the restaurant. Fresh cuts of all-natural, hormone-free meat are prepared each day for grilling, baking, and roasting, and the brand makes it a point to partner with local growers and food suppliers whenever possible.
During the thick of COVID, Urbane Cafe quickly pivoted by elevating its loyalty app and online ordering platform. Restaurants introduced takeout racks for to-go customers, launched curbside pickup, and leveraged third-party delivery services to reach homebound guests.
In nearly 20 years of business, Urbane has grown to $54 million in annual sales. The company is primarily based in Southern California, but in 2023, the chain plans to expand by 10 restaurants and introduce its first out-of-state location in Las Vegas.
Image credits:Urbane Cafe
Chip City Cookies
Headquarters: New York City, New York
Units: 14
Peter Phillips, cofounder of Chip City Cookies, recalls he and business partner Teddy Gailas searching for a capital raise to expand the business. However, the duo left meetings disenchanted with many of the venture capitalist groups. They didn't have the same belief in culture; talks seemed to focus solely on numbers.
After several back-and-forth exchanges with different entities, Phillips was eventually introduced to Mark Leavitt, one of three managing partners at Enlightened Hospitality Investments, a fund connected to well-known restaurateur Danny Meyer. When Leavitt and Phillips sat down for a conversation, there was agreement on values, trajectory, and capabilities—everything Phillips and Gailas sought after previously. After completing due diligence and meeting Meyer and Pete Mavrovitis, the third managing partner, Phillips was convinced that Enlightened Hospitality would be the best partner for growth.
In October, Chip City announced that it received a $10 million capital injection from the fund, which will help the company grow outside of New York City, in markets like New Jersey, Boston, the DMV, Connecticut, and Florida. Phillips says the brand expects to reach 40 locations by the end of 2023. In addition to retail stores, the company partnered with Uber Eats on its nationwide shipping program, allowing the chain to send six packs of cookies anywhere in the country.
Chip City is part of a surge in the cookie segment, along with brands like Crumbl, which surpassed 500 locations, and Cookie Plug, which announced a franchising program. Phillips attributes the rise to the nostalgia of cookies. It makes the dessert relatable. He also points out how cookies are made for social media and visible content.
"The cookie break, the way that translates to a photo, it's just very Instagrammable, very popular on TikTok," Phillips says. "And I think anything that trends on social media nowadays creates a big driver of momentum in the space. And I think the fact that so many of these concepts have had such great success has added fuel to the fire. Imitation is the greatest form of flattery as they say. So I think people seeing over the last five years how well these types of cookie brands have performed have caused more growth in the space and the segment."
Being part of an increasingly competitive space, Chip City looks to separate itself with quality and the customer experience, Phillips says. The company completes its own production. Chip City owns an 18,000-square-foot commissary in College Point, Queens, where it makes all cookies from scratch. Phillips says the brand has opted to not use a copacker so that it can remain on the cutting edge. Chip City has more than 40 flavors in rotation, and the chain is continuing to innovate.
The brand is registered to sell franchises, but any approach it takes will be measured.
"If we found a partner that we feel like will maintain the Chip City experience the way that we do it at our corporate locations, it will be something that we entertain," Phillips says. "But we're just going very slowly with it because again we're just very committed to the integrity of the product and consistency of the product."
Image credits:Chip City Cookies
Plomo Quesadillas
Headquarters: Fayetteville, Arkansas
Units: 3
Omar Kasim could see that quesadillas were the top-selling item at one of his taco shops. Additionally, he learned in a webinar that it was the No. 1 requested item at Chipotle. These discoveries pushed Kasim to create a concept centered around the Mexican favorite. Since opening, Plomo Quesadillas has become a go-to spot around the University of Arkansas, especially after 2 a.m. on weekends. The brand only serves quesadillas and certain sides, and each one is named after notorious individuals in history, like The Escobar and The Jesse James. Customers are able to "Make it Dirty," by having their quesadilla crusted with an additional layer of cheese on the outside.
"Everyone has this notorious alternative side of them, and we lean into that. During the day, you can be good and have a salad. When you're out on a Friday night, however, that is the time to indulge and Make it Dirty," Kasim says.
Currently the brand touts two brick-and-mortar locations and a food truck named the "Plomobile." The brand is scheduled to open its first out-of-state location in Dallas this summer.
Image credits:Plomo Quesadillas
Sip Fresh
Headquarters: Pasadena, California
Units: 4
The inspiration for Sip Fresh began, as the company likes to say, on a balmy evening at a local bar. Could a juice chain mirror the mixology trend that had taken over the beverage scene? Sip Fresh carried this mantra throughout growth and development. The chain crafts recipes in-house with "Sipologists" during the day in small batches. "Sipistas" greet customers with fresh samples of juices to narrow their choices akin to an ice cream shop. The fresh and interactive experience has set the chain apart in what's become a $146 billion industry, the company says.
"The idea behind Sip Fresh is simple: create fresh, eye-stopping, delicious drinks that provide an unforgettable experience for all," says Michelle Chino, head of corporate marketing at Sip Fresh. "Our stores offer a fun, interactive experience which the whole family can enjoy. Sip Fresh creations were made for a new era in the beverage industry and are social media, Instagram-worthy favorites. We pride ourselves in the quality products we craft and the fun we serve up at each of our locations."
Eye-catching storefronts and displayed juice barrels draw guests to a menu that's anchored by Fresh Sips (the juices) and rounded out by Tropical Sips, Cha Cha Chamoys, Smoothie Sips, and Shakin' Tea Sips. "Sip Fresh creations were made for a new era in the beverage industry and are social media, Instagram-worthy favorites," the company adds. "We pride ourselves in the quality products we craft and the fun we serve up at each of our locations."
Sip Fresh, like many, had to close during 2020 lockdowns. It took the time to integrate new tech, optimize the menu, and enable online ordering as stores got back on line. These changes, it says, helped the business and provided a better platform to scale. Sip Fresh initially plans to pursue growth in the Western and Southwestern portions of the country.
"As a multi-unit franchisee for decades, my focus at Sip Fresh is to incorporate the key elements needed to run a successful business from the franchisee's standpoint," says Sharon Arthofer, Sip Fresh CEO and founder, and 27-year franchise industry veteran. "We have designed a business model that provides strong consumer traffic with manageable labor, highly streamlined operations to maximize profitability. Our goal is for our franchisees to succeed in this new space; prioritizing seamless processes in order to service more guests and establish a loyal following in their community."
Image credits:Sip Fresh
Call Your Mother Deli
Headquarters: Washington, D.C.
Units: 7
Call Your Mother Deli describes itself as a destination for playful and nostalgic comfort food, including its signature bagels, sandwiches, and baked goods. All stores combined, the brand makes 45,000 bagels each week. The company says its bagels are a mixture of the classic New York-style and the sweeter Montreal-style. Cofounder Andrew Dana is Jewish and draws on the eclectic food from his childhood memories to inspire the menu. Meanwhile, cofounder Daniela Moreira has worked in several restaurants and grew up cooking campsite meals with family in Argentina. Almost everything at Call Your Mother is made in-house. If it isn't, it's sourced from a trusted partner, like Z&Z, Logan's Sausage, and Liberty Delights.
During the height of COVID, Dana and Moreira grew their team to 200 workers and expanded benefits to feature language classes, practical skills workshops, and parental leave. Call Your Mother supports the local D.C. community through partnerships with Urban Alliance, AYUDA, Food Rescue, and Martha's Table.
In 2023, Call Your Mother will expand beyond Washington, D.C., for the first time, opening three new stores in Denver.
Image credits:Call Your Mother
Chinah
Headquarters: New York City, New York
Units: 6
The start of COVID was particularly difficult for Chinah, which had two stores at the time located in the ground floor of office mid-rises. With the switch to work from home, sales predictably fell, dropping as much as 95 percent during Omicron. Realizing that office occupancy may never return to pre-pandemic levels, the fast casual is now pivoting to locations that offer sidewalk access in high foot traffic areas. Ghost kitchens are coming into the fold as well.
The company said it's equipped with a low-cost operating model that will allow it to reach dozens of locations in the next two years and hundreds of stores by the end of the decade.
Chinah's proteins—including tangy braised pork shoulder, crispy air-fried sesame and kung pao chicken, and spicy mapo tofu—are sourced from a commissary and finished onsite in combi-ovens, which don't require any venting. Because of this, the chain can open new restaurants for as little as $50,000 in equipment, labor, and buildout costs. Chinah is planning to reach Washington, D.C. in 2023, while also growing in New York City. In 2024 and beyond, it will expand to other East Coast cities and ultimately, nationwide.
Image credits:Chinah
Harlem Shake
Headquarters: Harlem, New York
Units: 2
Harlem Shake serves up burgers, shakes, "and good times" amid a backdrop of vintage diner decor and more than 200 autographed celebrity headshots, from Maya Angelou to P.Diddy and Asap Rocky. In addition to burgers made with custom blend Pat LaFrieda patties, Harlem Shake offers other made-to-order fare including all-beef hot dogs, chicken sandwiches, Jerk Fries, grilled cheese melts, entree-size salads, and an extensive beer and wine selection including eight draught beers.
The retro burger joint was founded in 2012 by Jelena Pasic, who fell in love with Harlem's warmth, charm, history and spirit of the Harlem Renaissance. Her own small-town Croatian roots instilled a strong sense of local community pride and passion for tradition in Pasic, so she ensured the dining experience would pay homage to Harlem's history through careful design and an ongoing relationship with community members, which includes predominantly hiring folks living in the Harlem neighborhood. For example, Dardra Coaxum is a Harlem native who manages the brand's social media and community relations for the restaurant's second location in Brooklyn, which opened in October 2021 despite pandemic-related challenges.
With a goal to expand the retro, fast-casual concept into more beloved neighborhoods, Harlem Shake is working on refining its franchise program and developing a sales team, though it will continue opening corporate-owned locations to grow its footprint. The brand has registered to sell franchises in 31 states.
Image credits:Harlem Shake
Bad Ass Coffee of Hawaii
Headquarters: Centennial, Colorado
Units: 28
A name like Bad Ass Coffee of Hawaii will naturally garner some attention, but the Colorado-based coffee and cafe brand has the beans to back it up.
After relaunching under new ownership and leadership in 2018, Bad Ass Coffee of Hawaii is making a name for itself as a rejuvenated 33-year-old franchise brand. Led by CEO Scott Snyder, the coffee company recently signed its largest deal in brand history to open 20 locations in Florida. With about 80 additional units sold and in various stages of development, the concept is well on the way to its goal of opening 150 new locations over the next five years.
"I saw its potential and knew what was missing to transform Bad Ass Coffee of Hawaii to new levels of success," Snyder told QSR in August 2022. "We knew from the start that there would be a lot of change to manage in the organization, so leadership alignment around one common vision would be critical. Even after the pandemic started, we maintained our focus on the vision but were still able to execute efficiently and pivot as a team when met with challenges."
In addition to aggressive franchise sales and development, Bad Ass Coffee also experienced a 66 percent increase in average unit volume in 2021 to $720,000, which is up 76 percent from 2019. The brand debuted new store prototypes in 2022 designed to ignite rapid growth, plus rolled out a new point-of-sale system that integrates online ordering and loyalty on one platform. And a significant menu innovation project with Denver-based Food & Drink Resources provided a road map for the brand's future food and beverage options, which will be on-trend and inspired by its Hawaiian heritage.
"Bad Ass Coffee's dedication to sharing Hawaiian coffee starts with its longstanding partnerships with multi-generational Hawaiian coffee farmers, including Greenwell Farms in Kona—the oldest coffee farm on the Hawaiian Islands and one Bad Ass Coffee of Hawaii is proud to call a partner for the past 33 years," says Chris Ruszkowski, senior vice president of marketing for the brand. "Through these partnerships, the brand embraces its unique practice of harvesting some of the highest-quality coffee beans in the world."
Image credits:Bad Ass Coffee of Hawaii
Smokey Mo's BBQ
Headquarters: Cedar Park, Texas
Units: 17
Smokey Mo's BBQ offers its Texas style throughout the central part of the state, including low and slow-cooked brisket, which is smoked in-house for 10-14 hours each day at every location. A notable differentiation is that all stores have a trained pitmaster who's an expert in the art of smoking, slicing, and serving meat, giving each restaurant a particular taste.
At the start of COVID, when everything was shut down, Smokey Mo's was forced to lay off 40 percent of its staff. However, the fast casual was able to bring these jobs back within weeks. In fact, throughout the pandemic, the brand maintained nearly full staffing and amplified its catering, third-party delivery, and takeout channels to meet the needs of customers.
In January, the Texas chain announced it was purchased by private equity firm Switchback Capital. The company intends to help the restaurant debut 32 locations in the next three years and unveil a new brand look. CEO Craig Haley said the updated design streamlines operations, provides an open view of smokers, and develops clearer pathways for preparing and delivering food to guests during peak hours.
Image credits:Smokey Mo's
Yonutz
Headquarters: Sunrise, Florida
Units: 8
As the self-proclaimed world's most innovative donut and ice cream concept, Yonutz is on a mission to "smash the ordinary" by smashing donuts and ice cream together in a concoction perfectly designed for Instagram and Tik Tok. The sweet treat brand aims to transport guests "into a whimsical dessert wonderland," where customers create one-of-a-kind Smash Donuts from an array of gourmet donuts, ice cream, and topping choices. A photo wall allows guests to capture the perfect pic for their social feed—providing free advertising for Yonutz, as a bonus.
Yonutz's partnership with Kevin Harrington, original "Shark" on the Emmy-winning TV show, "Shark Tank," plus being awarded "Best Dessert Shop in South Florida" by CNN has helped Yonutz quickly rise to fame, collecting loyal fans along the way. Winning Dessert Wars in 2019 and 2020 also aided in building brand name recognition.
After completing a company rebrand and renovation of its flagship location in South Florida during the pandemic, Yonutz began offering franchises and opened seven locations in 2022 that feature neon signs, colorful countertops, and revamped bar areas with additional seating. The brand has about 20 more new shops in the pipeline, with more promised to follow.
Image credits:Yonutz
Tacos 4 Life
Headquarters: Conway, Arkansas
Units: 25
Tacos 4 Life was founded with the mission to end world hunger. In 2009, cofounders Austin and Ashton Samuelson learned that more than 18,000 children die each day due to hunger-related causes. Five years later, the duo created Tacos 4 Life, which donates a meal for every taco, salad, quesadilla, rice bowl, or nachos sold via nonprofit partner Feed My Starving Children. Unlike other concepts, the donation isn't a limited-time offer or promotion. It's a continuous program that's resulted in 26.5 million meals sent to children. Even during the pandemic-ridden 2020, the fast casual was able to raise 4.3 million meals.
In 2022 alone, Tacos 4 life projects hitting 5.5 million meals. With all the restaurants either open, under construction, and in development, the brand believes it will reach 10 million meals per year in the future.
Tacos 4 Life is known for its Korean BBQ Steak, Hawaiian Shrimp Taco, Chicken Bacon Ranch Taco, Firecracker Shrimp, and Sweet & Spicy BBQ Pork Taco. The company adjusted to COVID by growing its off-premises offerings, including a new mobile order system through its app and the addition of curbside pickup.
Image credits:Tacos 4 Life
My Burger
Headquarters: Minneapolis, Minnesota
Units: 8
My Burger, founded in 2004 by Larry Abdo, is a family affair. All eight stores are owned and operated by multiple generations, and thoughtful growth has been focused on the Twin Cities area. As the company expands, it's dedicated to keeping the brand local and family-owned.
Restaurants blend old-school mentality with modern design; never-frozen burger patties are hand-pressed and hand-sliced, and vintage milkshake machines line walls that are covered with bold graphics and clever phrases. The decor is specific to each store to create a local feel.
Passion for the brand starts at the stop. CEO John Abdo and other executives regularly work in stores, whether it's on the line, cleaning, or expediting. The corporate team passes that excitement to staff; several managers and cooks have been with the brand since the beginning or for more than 10 years.
For My Burger, takeout has always been a big business. The fast casual uses a special burger box with punch-out holes that was rigorously tested to ensure food would hold up for walks back to Minneapolis offices. Also, during COVID, the company pivoted to Toast's POS system to align operations and track guest behavior.
Image credits:My Burger
South Block
Headquarters: Arlington, Virginia
Units: 14
When Amir Mostafavi first got into the juice and smoothie business in 2006, he started in George Washington University's campus gym. He had just left a corporate job he was not passionate about and wanted to delve into the world of entrepreneurship. That spot was called Campus Fresh, and jumpstarted his career in the restaurant space. In 2011, Mostafavi opened South Block in Arlington, Virginia, and he's been in the juice game ever since.
"Our mission is to build healthier communities one block at a time," he says. "Wherever we go, we want to be part of that community—making that community better, making that community healthier, not just in the food that we're serving, but through our involvement with other businesses in the community, with charities, making it a great place to work."
South Block has since grown to 14 locations in the DMV area, bringing menu items like cold pressed juices, acai bowls, toast, coffee, and other superfoods to customers. During the pandemic, the brand increased its digital footprint and made home delivery acai bowl kits. The focus paid off, with a leap from 20 percent online orders to 60 percent after app ordering was prioritized. The brand has also now implemented kiosk ordering into stores.
"We really saw a shift of people leaning into digital ordering through our app, through online ordering, through third party delivery companies," Mostafavi says. "We want to make the ordering process for our guests as seamless as possible, but we still want to make sure that there's that element of culture in our store where we can connect with our guests."
After being in business for over a decade, South Block is still looking to grow. It recently hired the brand's first COO, Steven Fader, who previously spent 29 years at Whole Foods. The company was also selected to be in Amazon's headquarters in Pentagon City, and will open that location in the summer of 2023. This will be the fourth location South Block has brought to market in a 12-month period. In addition, the brand is in the process of its first capital raise.
"We're really focused on finding the right capital partner," Mostafavi says. "Someone who really first and foremost aligns with our culture and our vision wants to grow in a very positive way. We want to grow as fast as we can while still keeping the quality of product and the culture intact."
Image credits:South Block
Chip Cookies
Headquarters: Salt Lake City, Utah
Units: 11
Chip Cookies was born in 2016 out of a rented kitchen in Provo, Utah, by husband and wife cofounder duo Sarah and Sean Wilson. Sarah's late-night pregnancy cravings for warm chocolate chip cookies led to "a new category of cookies," and the brand now touts itself as the original gourmet cookie delivery company with 11 locations in Utah and Idaho and $6 million in systemwide annual sales.
From the OG Chocolate Chip Cookie and Biscoff Chip to a Sugar Chip cookie with homemade cream cheese frosting, Chip's cookies are all freshly baked and delivered locally as well as shipped nationwide. A focus on sourcing high-quality ingredients and mantra of providing "quality over quantity" helps differentiate Chip Cookies from competitors in the treat segment.
The delivery concept was in a favorable position when the pandemic hit, and managed to open a new store and convert some locations to temporary drive-thrus.
"Although it was an uncertain time, we found that customers still need that small sweet escape and Chip was there to fulfill that need," Sarah says. "We saw an uptick in our already thriving delivery business and for many, were a comfort that kept their family feeling happy and safe during a difficult time."
In the spring of 2022, Chip Cookies launched franchise opportunities and has since sold more than 50 locations to expand the concept to cookie lovers across the U.S.
Image credits:Chip Cookies
Twisted Kitchen
Headquarters: Atlanta, Georgia
Units: 3
Twisted Kitchen believes it's poised for growth with a new prototype and franchising program now in place. After opening three stores in the metro Atlanta area, the brand launched franchising to expand throughout the Southeast. The current footprint earns $2.2 million in annual sales. It was founded in 2009 in Marietta, Georgia, and became a cult favorite among Kennesaw State students, local workers, and residents. The second store debuted in 2015 in Midtown Atlanta and the third unit opened in late 2021. Guests start by choosing a pasta, salad, or wrap and then adding ingredients from a kitchen full of fresh meats, cheeses, vegetables, and sauces.
When COVID began, the restaurant slowed until it figured out staffing. Twisted Kitchen was already involved in third-party delivery, but additional off-premises options helped sales rebound. Numbers have now fully recovered despite some markets not yet seeing a complete return of daytime employment. The company said its business model was diverse enough that there wasn't a material change in operations. Beyond a few slow months, customers became comfortable with delivery.
Image credits:Twisted Kitchen
Apóla Greek Grill
Headquarters: Irvine, California
Units: 3
Apóla Greek Grill prides itself on serving the "most authentic Greek Gyro you can get without buying a plane ticket" to Greece, according to co-founder and CEO Yianni Kosmides, who co-founded the brand in 2017 with his brother, Stefano. Their traditional Pita Gyro Apóla comes with tzatziki, red onions, Roma tomato, and a handful of fries all wrapped in a warm pita. Apóla's menu also offers vegan, halal, vegetarian, and gluten-free choices.
While Greek cuisine tends to provide healthier options for consumers with fresh ingredients, Kosmides feels the category is under-represented in the wider restaurant industry—which means space for an up-and-coming star like Apóla to rise up as a national player. During the pandemic, the Greek grill opened its first franchise location in Riverside, California; a ghost kitchen location in Anaheim; and saw sales increases greater than pre-pandemic numbers. An additional 10 locations are expected to open by 2024 throughout Southern California and expand up the West Coast.
Driven by the Kosmides brothers' values, Apóla employees are encouraged to pursue higher education and are guided on how to gain promotions, and the brand has financially supported local causes and organizations including Greek churches, public school foundations, local first responder organizations, and UC Irvine Health.
"Apóla continues to fine tune its overall operations to lower expenses, improve procedures for team members, and make sure to treat all guests like family," adds Kosmides.
Image credits:Apóla Greek Grill
Recess
Headquarters: Atlanta, Georgia
Units: 2
Recess is pushing the boundaries of "food that makes you feel good," led by CEO and tech expert Erik Göranson and culinary director and former True Food Kitchen executive Whitney Wood. While Fred Castellucci founded the concept as a food stall in Atlanta's Krog Street Market, the pandemic forced the team to start operating the Recess menu out of its sister restaurant, Bar Mercado, to continue providing health-forward options for customers when dine-in spots were shuttered. This sparked the idea to expand Recess nationally with the aim of redefining the fast-casual dining experience using a technology-forward approach, from convenient ordering and pickup to a thoughtful rewards program tailored to individual customers' preferences.
With flavors from Mexico and the Mediterranean to the Southern U.S., Recess offers vibrantly colorful bowls and salads powered by a balance of nutritious grains, whole proteins, and seasonal vegetables. Don Diego, for example, features spanish brown rice, avocado, roasted corn, black beans, citrus red onion, cherry tomato, cilantro, lime, tortilla strips, and chipotle crema, with recommended add-ons including cotija cheese, spanish chorizo, and/or shredded chicken. Customers can add up to five premium toppings and remove any ingredients they want, and pick from a variety of "Functional Beverages" such as Enlighten Mint Yerba Mate, and Prickly Pear Mango or Peach Hibiscus Lavender Kea Kombucha.
The brand opened its second location in Buckhead with a walk-up window, outdoor and indoor seating, and a streamlined ordering counter. While Atlanta is the first market, the team hopes to open in additional cities in the Buckhead region and expand across the Southeast.
Image credits:Recess
Roam Artisan Burgers
Headquarters: San Francisco, California
Units: 5
Roam counts itself as one of the pioneers in the "fine casual" space, sourcing high-quality ingredients for its burgers, fries, sides, and shakes from farms and ranches committed to sustainable practices. Featured on the Food Network twice, Roam is a better-burger concept made fresh with mindful ingredients, and sets itself apart from competitors with its dedication to the well-being of both its customers and the planet.
For example, Roam recently launched a Vegan Bacon Cheeseburger as a new menu item, featuring Roam's House-made Organic Veggie Patty, Umaro Plant-based Bacon, Violife Vegan Cheddar, lettuce, tomatoes, pickles, onions, ketchup, and mustard on a Pacific Coast Bakery Whole Grain Bun for $15. A rotating fried chicken sandwich and seasonal menu items keep Roam's menu fresh for customers, such as autumn's dish, which included a Firebrand Pretzel Bun, sauerkraut, Fra'mani Smoked Ham, caramelized onions, swiss, and Bavarian sweet mustard.
While COVID forced Roam to re-evaluate its urban locations where people weren't going into offices anymore, a scaling up of the company's pickup and delivery platforms helped to offset those challenges. With five locations open and running and $12 million in systemwide annual sales, Roam aims to expand its presence throughout the California Bay area and beyond while remaining focused on top-quality products. The company also promises new menu items and a refreshed interior design in the near future.
Image credits:Roam Artisan Burgers
Baya Bar
Headquarters: Brooklyn, New York
Units: 22
Baya Bar has quickly arisen as a go-to smoothie, acai bowl, and fresh juice stop for New Yorkers. Founded in 2016 in Brooklyn, the brand quickly grew to 22 locations within the five boroughs and Long Island, and a location on the iconic Mulberry Street in Little Italy. A focus on high-quality ingredients, large portion sizes, and competitive pricing has driven the brand's rapid expansion, in addition to its low start-up costs for franchisees.
During the pandemic, Baya Bar was well positioned as a healthy fast-casual food and beverage concept, and focused heavily on order ahead and delivery. Marketing efforts highlighted fresh juices and "booster" shots to aid customers' immune systems and overall health.
The brand is in the midst of finalizing a co-branding deal with a well-known coffee company to enhance its product line-up, as well as finalizing multi-unit deals to expand Baya's footprint to Michigan, Ohio, the Carolinas, Georgia, and Florida. Baya Bar plans to have upwards of 50 locations open or under development by the end of 2023.
Image credits:Baya Bar
Pure Green
Headquarters: Sunrise, Florida
Units: 26
Wellness-based juice bar Pure Green was founded in 2014 with the goal of building healthier communities. The brand serves menu items like cold pressed juices, superfood smoothies, wellness shots, acai bowls, oatmeal bowls, superfood toasts, and juice cleanses. Pure Green was engaging in an equity crowdfunding campaign when the pandemic first hit, and used some of $1 million raised to fund expansion efforts of corporate-owned locations and to find franchise partners to expand the brand. Now, Pure Green says it is on pace to have 100 franchised locations open by the end of 2023. There are also plans to open inside the Goodtime Hotel in Miami Beach in January.
Image credits:Pure Green
Chicas Tacos
Headquarters: Santa Monica, California
Units: 5
Rooted in a Northern Mexican style of cooking with "a feminine touch," which inspires the name, Chicas Tacos is a health-forward fast-casual brand serving up tacos, burritos, and bowls. The brand received a Michelin Bib Gourmand award for its flour tortilla and balances its menu with traditional protein offerings such as steak, chicken, and fish with vegan options such as cauliflower, mushrooms, and plant-based queso. For example, Chicas' Shrimp Taco includes a corn tortilla, sautéed marinated shrimp, shaved cabbage, morita aioli, pickled red onion, and cilantro, while The Crispy Supreme Taco features Abbot's Butcher plant-based meat, iceberg lettuce, radish, citrus vinaigrette, and avocado crèma on a crispy corn tortilla shell. Combos pair tacos, quesadillas, or market burritos with a fountain drink and chips and salsa for easy ordering.
Chicas also prides itself on being an approachable and welcoming brand, exemplified by giving back to its local community focused on children and families in need. Aiming to bring joy, consistency, and healthy offerings during a time of fear and uncertainty during the pandemic, Chicas donated more than 80,000 meals to schools and charities, which also enabled the restaurant to keep staff employed.
With check averages north of $22 per person and a high percentage of alcohol sales relative to the wider quick-serve and fast-casual sector, Chicas is poised for growth. The brand opened its second brick and mortar location in Culver City, California, in January 2020, followed by three more store openings. In 2023, Chicas plans to open six more restaurants between Los Angeles and Orange County and find a brand equity partner to help grow the concept to 25 locations and beyond.
Image credits:Chicas Tacos
Puro Gusto
Headquarters: Washington, D.C.
Units: 1 (U.S.)
Puro Gusto puts an international twist on the standard café with an operation that runs from breakfast until cocktail hour. Meaning "pure taste" in Italian, the first location opened in 2006 in Milan and has since grown to 30 units in Europe and Asia. In December 2021, the brand made its stateside debut in D.C., just blocks from the White House.
Given its location in a business district rather than a residential neighborhood, Puro Gusto launched delivery to drive off-premises business. As workers began to return to the office, the café introduced catering menus, with options spanning breakfast, lunch, and happy hour. It also created a loyalty program with specials like Bottomless Aperitivo Happy Hour and Puro Power Hours, which offers $1 coffee before 9 a.m.
Puro Gusto plans to open more stores in D.C. and beyond and eventually pursue franchising channels. In 2023, the restaurant will switch to eco-friendly takeout containers, packaging, and utensils.
Image credits:Puro Gusto
Viva Chicken
Headquarters: Charlotte, North Carolina
Units: 16
This year, Viva Chicken turns 10, and it's marking the occasion with a full roster of events—and a new era of expansion. Founded in 2013 by Peruvian-born chef Bruno Machiavello and business partner Randy Garcia, the concept features the chef's family recipes but in a fast-casual format. The signature dish, Pollo a la Brasa, which is marinated for 24 hours in a proprietary blend of herbs and spices, can be paired with authentic sides like arroz chaufa (Peruvian fried rice), plantains, and canary beans. A selection of salads, bowls, wraps, and sandwiches round out the menu.
Since its debut in Charlotte, North Carolina, Viva Chicken has expanded throughout the state and into neighboring markets as well as Utah. Last year, it opened a third unit in South Carolina (the second in Greenville) and made its Georgia debut with a location in Kennesaw. The brand also went mobile in 2022 with the launch of its first food truck. Now it's targeting 3–5 new units per year in existing markets and contiguous states, including a second Georgia outpost in 2023.
But even as Viva Chicken expands its footprint, the company remains committed to its people. Last year, it expanded its benefits package, which now includes maternity leave, advanced access to earned wages, sick pay, 401K, and more.
Image credits:Viva Chicken
Cornbread
Headquarters: Irvington, New Jersey
Units: 3
Adenah Bayoh believes Cornbread has the potential to be the largest national savory soul food concept in the fast-casual space. Bayoh and her co-founder, Elzadie "Zadie" Smith, created Cornbread's menu to be mouthwatering, comforting takes on Southern classics such as fried chicken, catfish po' boy, yams, and of course, the brand's award-winning cornbread.
"We're essentially a line service like Chipotle, but we're not serving you burritos, we're serving you mac and cheese, baked chicken, barbecue ribs, and collard greens," says Bayoh. "If you look at the segment of fast casual, we don't have a competitor, we just don't; no one is really doing this the way we're doing it, and I pride ourselves in being the first to do it well."
Bayoh opened the first Cornbread location in Maplewood, New Jersey in October 2017, a second location in Newark in 2021, and a third in June 2022, located on the ground floor of a luxury rental building in Brooklyn. The "farm to soul" brand's fourth location is expected to open in Montclair, New Jersey, during the second quarter of 2023, with more to follow as Bayoh's team begins offering franchise opportunities around the same time.
"I would like to do three to four more stores in Brooklyn, because Brooklyn's love [for Cornbread] is so deep and so amazing. We've gotta spread love the Brooklyn way," Bayoh says. She's also eyeing areas such as Queens and Harlem in New York to expand into, as well as areas in Washington, D.C. and Virginia.
"We're looking at growing our corporate-owned stores as we're growing our franchise base. I want to make sure we grow enough company-owned stores that we test out our concept," she notes.
With a sweet spot ranging between 1,500 to 2,500 square feet, Cornbread's optimized layout also includes self-ordering kiosks, and Bayoh is currently working with Lunchbox to beef up its app to integrate online ordering and delivery with their third-party exclusive partner, UberEats.
"We're just really tackling meeting our consumers where they are and how they want to be marketed to," she says.
Bayoh's prior restaurant franchise experience has helped in her journey to becoming a franchisor. A Liberian native who escaped civil war when fleeing to the U.S. at just 13 years old, Bayoh went on to become one of the youngest IHOP owners in the country at 27. "Drawing on my experience as an IHOP franchisee—and understanding I've been with an iconic brand for the past 15 years and sat on several boards—have taught me to be flexible with people, but not on your processes and procedures," she says.
Bayoh seeks to offer leadership positions and ownership opportunities to people of color, women, and other marginalized groups who have historically been denied access to positions of power in companies—including hiring mothers to give them flexible schedules as well as formerly incarcerated individuals. "As we grow our corporate-owned stores, that's definitely something we'll employ and implement anytime we can. We're not turning anyone around because they have a criminal background, and we'll encourage franchisees to look back and say, 'hey, what kind of impact do you want to have on your footprint and community?'" Bayoh says.
"I want to make sure we leave a legacy that inspires people and inspires young women of this generation to go out there and do big things," she adds.
Image credits:Cornbread
Kelly's Roast Beef
Headquarters: Boston, Massachusetts
Units: 8
Unlike many brands on the 40/40 list, Kelly's Roast Beef has been a household name for years, at least in the Boston area. Now, after seven decades in operation, the brand is ready to spread its wings.
"Kelly's is a known brand that people love. People associate it with Boston similarly to the way people associate In-N-Out Burger with California. Customers have a passion for the brand, and there are very few franchise opportunities out there founded on over 70 years of history," CEO Neil Newcomb said.
In addition to its four Massachusetts locations, Kelly's Roast Beef has planted flags in Florida, Southern California, and New Hampshire, the last of which opened last October and marked the brand's entry into the world of franchising. At press time, two additional Florida stores were slated to open in early 2023.
Kelly's has never converted to a commissary style, which Newcomb credits with maintaining its high quality (he adds that at peak season, a single location may sell upward of 20,000 roast beef sandwiches in a month). That said, it is freshening up some areas. New locations will sport a modernized design while the larger company continues to embrace technology that streamlines operations.
Image credits:Kelly's Roast Beef
Chick-N-Bap
Headquarters: New York
Units: 4
Billed as "Born in Korea, Raised in New York," Chick-N-Bap was first conceived on a drunken college night in 2013. Founder and then-student Sung Kim was craving the chicken and rice plates that are so common in the Big Apple but virtually nonexistent at his upstate university town. The idea ended up being more than a mere lark; the next day, Kim stocked up on ingredients at Walmart and began experimenting with his own recipe. He sold these dishes (under the radar) out of his off-campus house for a period, and then in 2016, the brand made its grand debut at Binghamton University's food court.
Chick-N-Bap has since grown to five locations in New York state and a Pennsylvania unit—all on college campuses. Indeed, the brand's expansion plans are rooted in franchising with university dining operators, like Sodexo, which was its original partner at Binghamton. At press time, Chick-N-Bap was closing a nationwide licensing deal with a foodservice provider while also pursuing plans for brick-and-mortar locations and a franchising arm. Still, Kim emphasizes that growth will never come at the expense of quality. During the pandemic when locations were forced to shut down, the brand worked to improve all recipes and introduce more complex add-ins like cucumber kimchi, soy jalapeños and onions, bibi sauce, and Korean Fried chicken sandwiches and wings.
Image credits:Chick-N-Bap